Delighting the Customer is what an executive leadership summit should really be about. Cascading the absolute focus on delighting the customer through an entire organisation from the top down.
The important of delighting the customer for both employees and customers is consistent with the advice from the Harvard Business Review article Making Customer-Centric Strategies Take Hold.
"To create a clear vision that rallies the organization, business leaders need to define what it means for their companies to become more customer centric." HBR, 2015
Net promoter score
Net promoter score (NPS) measures customer loyalty. It is a common element within customer satisfactions surveys.
An extremely detailed analysis of How well does NPS predict rebooking at Airbnb, was posted by Lisa Qian. Airbnb data scientists examine the quality of the trip experience, including NPS promoters which they classify as Likelihood to Recommended (LTR) to predict whether the customer will book again. I would be interested to understand whether comments about Airbnb posted by guests on social media could be an additional parameter.
ArjoHuntleigh experience
Experience from two years of running the global customer satisfaction survey across 21 countries in 9 languages reinforces these key points.
Position customer satisfaction as part of Delighting the Customer
Focus on post-survey corrective action planning to drive improvements in customer experience
Net promoter score is not well understood by senior executives
A very clear project, mandate, team and communication is required, which can be owned by marketing communications
Invest time in the quality of the background data (BGD), translations and communications
The Netigate online platform and Netigate Insights proved highly valuable in driving a 17% response rate
Consider running customer satisfaction and employee satisfaction surveys in tandem
"This is not a tick-box exercise to say you have competed a customer satisfaction survey."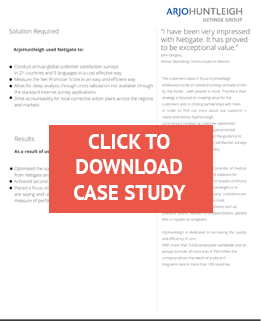 Southwest Airlines
Shep Hyken, Forbes Leadership contributor,  applauded Southwest Airlines was also recently applauded for a customer centric model whereby passengers with damaged luggage were offered a no-hassle immediate replacement in the arrivals hall. He had three lessons from his Southwest Airlines experience
Protect your reputation
Make it easy
Consider the real cost 
HubSpot Academy – 3 pillars of delight
"Delight is key to the world of inbound"
Innovation
Communication
Education
HubSpot Academy's 3 pillars of delight demonstrate real implications for the entire organisation with specific advice included on hiring practices. It also aligns tightly with the foundation of building a high performance team – TRUST.
Application to the nonprofit sector
Customer satisfaction and loyalty is often attributed to the for-profit sector. However, it is just as applicable in the nonprofit sector to turn passionate individuals and volunteers into inspired advocates. These committed advocates will amplify your message, cause and brand. You can read more in the great book Transform your Nonprofit with Inbound Marketing or our own eBook How to get started at Inbound Marketing as a nonprofit.
5 strategies to accelerating customer centricity
In the same paper, sponsors Strativity recommend these five strategies to accelerating customer centricity.
Create a meaningful, human case.
Integrate initiatives into a holistic program.
Design strategies for employee performance.
Align processes to metrics to accelerate.
Set the standard at "exceptional" in everything.
Driven to Delight is a new book by Joseph Michelli profiling the delivery of World-Class customer experience the Mercedes-Benz way. The Delivering Happiness book about Zappos by Tony Hsieh is also a wonderful illustration of this in action.
Customer centricity needs to start with executive leadership. Both customers and employees should be consulted to learn how to create delight. I encourage you to invest the time to review the excellent resources linked to in this post.