Childbirth can be a painful and emotional process. This two-year project with a dedicated group of paediatric wound, ostomy, and continence nurses resulted in the first Canadian recommendations for paediatric incontinence-associated dermatitis (PIAD). Hopefully, they will provide an invaluable resource designed to enhance your expertise in preventing and managing PIAD in infants and children.
This case study examines this latest NSWOCC consensus publication development. 
PIAD is so common that it is often mistaken as not a medical issue, but to the child or infant it can be very painful and for some traumatic. The lack of research and guidelines leaves families turning to "the way it was done before" or 'Dr Google' rabbit holes. This can delay effective treatment and prolong suffering. This work is required to help clinicians and families approach this as a medical issue that can be treated.

–          Stephanie Furtado, MClScWH, BScN, RN, NSWOC, WOCC(C)Project Lead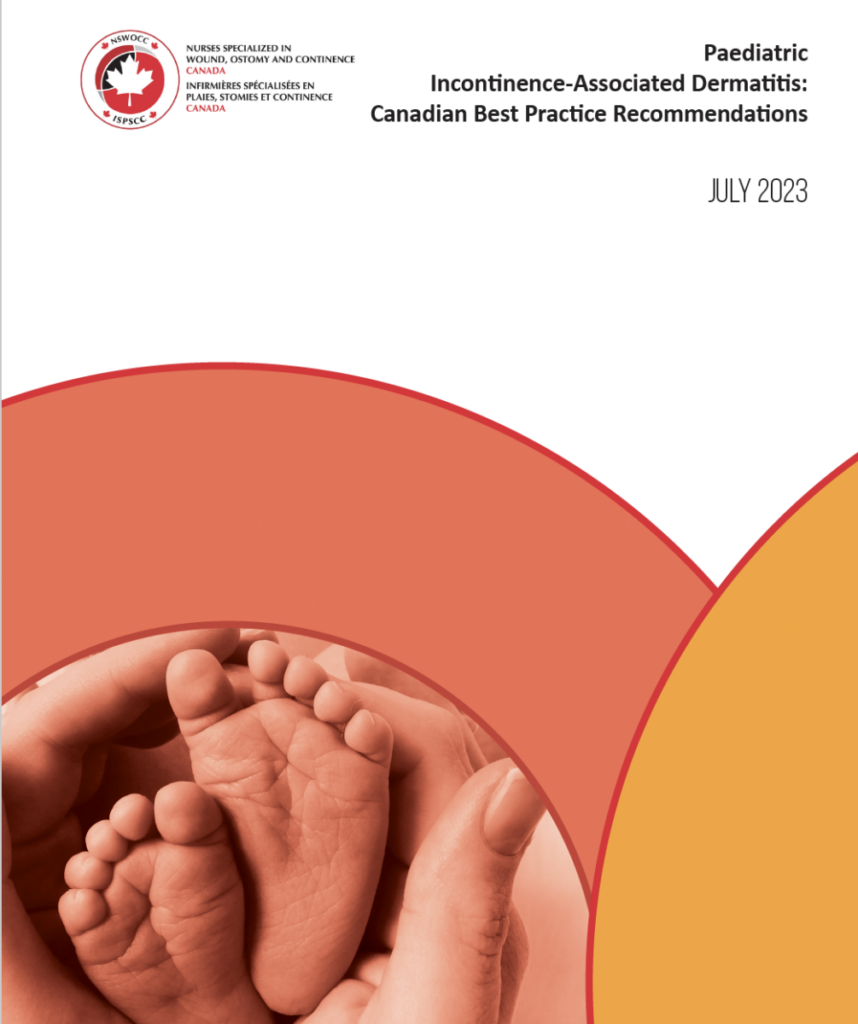 Diaper dermatitis, also known as incontinence-associated dermatitis (IAD), is a common acute inflammatory skin reaction that affects the diaper area, including the buttocks, perianal region, genitals, inner thighs, and waistline. While it primarily impacts infants aged 9-12 months and diapered children, it is essential to recognize that PIAD extends beyond the diaper-wearing stage. This document addresses the unique needs of the broader paediatric population, emphasizing the importance of differentiating PIAD from other dermatological conditions.
Developed by a team of experts in wound, ostomy, and continence care, these best practice recommendations are tailored to meet the needs of NSWOCs, registered nurses, physicians, and other allied health care professionals working with children. By adopting consistent definitions and terminology, this resource facilitates effective communication within the interprofessional team, enabling you to make informed decisions about prevention and management strategies.
Abridged PIAD recommendations
Complete a holistic assessment. Perform a head-to-toe assessment while considering the underlying etiology, pain, effectiveness of previous management and treatment strategies, and assessment of cultural practices.
Advocate a consistent approach for the prevention and treatment that addresses five components–cleansing, air, skin barrier, diapers, and education.
Streamline skin care products within your health care organization, including skin cleanser, skin barrier cream and cleansing cloth. Review rationale for skin barriers, ingredients to avoid, and their accessibility and availability.
Define the duration of recommended skin care regimen (usually 3-5 days) before reassessing, unless the condition is worsening.
Seek advice from an NSWOC or a qualified wound care specialist if management strategies are not effective.
Add an antifungal if Candida is diagnosed. A prescription for these products may be required.
Standardize documentation and communication with all health care professionals, the child (if age appropriate) and their family.
Educate and collaborate with all those involved in the care of the infant/child about the plan of care for prevention and management. Provide ongoing education.
Refer to the PIAD quick reference guide for classification and management principles.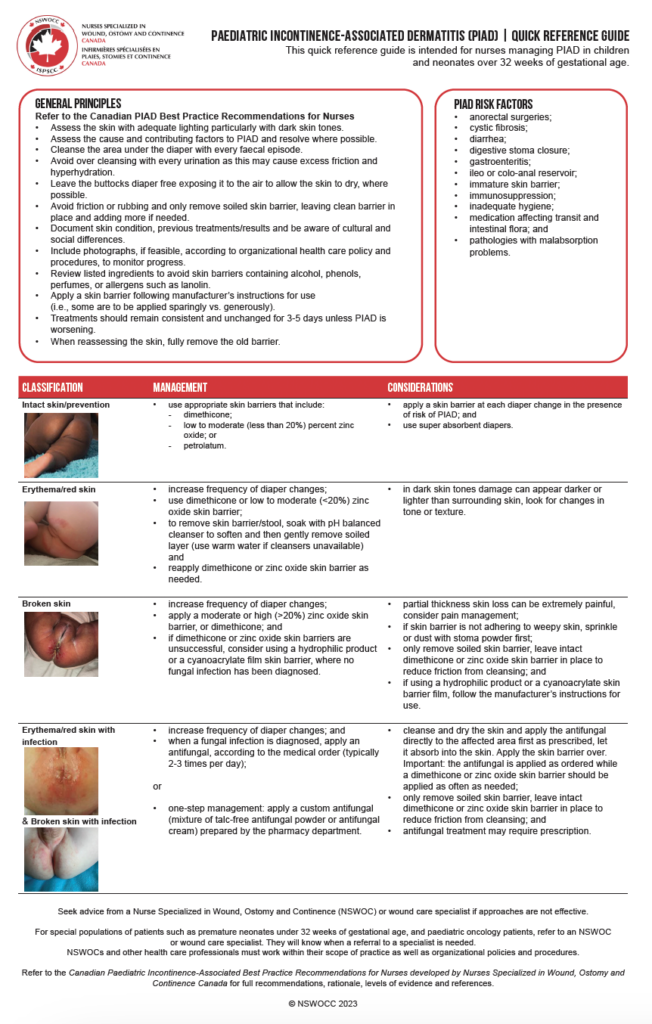 The recommendations were subject to a Delphi consensus process using a 5-part Likert scale with an 80% consensus level and up to three rounds. 
As an enhancement to previous consensus document publications, a clinical nurse researcher appraised the level of evidence of each of the recommendations supporting the nine recommendations. The level of evidence employed the Registered Nurses' Association of Ontario Interpretation of Evidence model. The same researcher and process will form a consistent part of future projects. It will remove a perhaps unfamiliar burden from the task force and ensure consistency across multiple NSWOC publications. These Canadian paediatric recommendations were an extended engagement. The first formal meeting to kick off work on the best practice recommendations was in June 2021. We endeavoured to meet monthly. The pandemic was an especially tough period for the limited number of paediatric NSWOCs across Canada. They were in demand and overextended, so their dedication to this project is noteworthy.
There was substantial discussion over terminology, notably diaper dermatitis. Late in the project, Ann Marie Dunk published two articles, a scoping review on the clinical signs and symptoms of diaper dermatitis in newborns, infants, and young children and an editorial "Is it time to reconsider the terminology for diaper dermatitis?" We tend to think this condition is restricted to infants before formal toileting skills are acquired. However, some older adolescents are also liable to PIAD. 
Unanticipated hurdles
These best practice recommendations ran into several unanticipated hurdles:
photography–there were no available sources. The challenge ran through the entire duration of the project as we prepared the final artwork. Images of children are rightly controlled, especially involving the genitalia. We agreed that all images required signed consent to use them. However, this meant that we didn't have applicable pictures of the different stages of PIAD with signed consent on the NSWOCC document, and it wasn't practical to go back to prior case pictures and seek consent from parents/guardians. This is an opportunity for one of the industry members to create an image bank with suitable written consent to you the images.
peer review–there are a limited number of available paediatric nursing subject matter experts to act as reviewers. This caused us to search for paediatric hospitals in Canada. There are approximately 20. We also extended the call for peer reviewers to colleagues outside of Canada.
copyright permission–through each of these BPR projects, we work through the Copyright Clearance Center, journal publishers, associations, and authors to obtain applicable copyright permission. This was the first instance where we could not contact the necessary authors to acquire copyright permission. Consequently, we did not reproduce their work and reformatted or paraphrased sufficiently that copyright permission was no longer required. This was unfortunate and consumed substantial time.
I am humbled by Stephanie's sentiments on our work. She wrote, "Really, you were the star of this project. Very few members of our group had any previous experience with a project of this scope, and without your guidance, I know it could never have been completed. Your support through each step allowed this to be created." 
I sincerely appreciate the dedication of all NSWOCC Paediatric Community of Practice members, leadership from Stephanie Furtado, Emily Woodgate, and industry support. The work continues, and we look forward to the subsequent output from this Canadian expert group, with Emily Woodgate taking over as the new leader of the specialist group. Seeing the compliments from international groups and their interest in translation is gratifying.
Thank you to my team, which included Layal Bou Abdo, Lisa Moulton, and Natasha Wilson, for their ongoing support and attention to detail. During this project, we also published an article in NSWOC Advance detailing the process in the development of these consensus publications https://www.flipbookserver.com/NSWOCadvance-mar-2023 Our Opencity Inc. projects continue with the pending publication of the Canadian Federation of Mental Health Nurses 5th edition Standards in English and French as well as the NSWOCC percutaneous enteral feeding tube best practice recommendations.