The Operating Room Nurses Association of Canada (ORNAC) promotes high standards of operating room nursing practice in order to promote quality nursing care in Canada.
Updated standards of nursing practice for publication simultaneously in both official languages every two years is a substantial undertaking. The 16th ORNAC Standards include 562 pages in English and 604 pages in French, with 928 references and 160 abbreviations. 
We worked with a dedicated committee of volunteers meeting monthly for over 22 months to complete this latest edition. John Gregory acts as the Standards Coordinator for ORNAC producing these standards.
"Standards are important because they basically define our practice as nurses. So as perioperative nurses, we have a document that has been well validated, well reviewed, and well presented for us to rely on. Watching the project go from the beginning stages right to the end, where the finished product is available. And that's been an amazing process over the last two years."

Sharon Hollett, ORNAC President 2021-23
While the committee was deep in the practice statements and rationales of the subject matter it was an opportunity in parallel for us to examine how we could elevate the quality of the figures and tables. The vast majority were recreated, including the engagement of a medical illustrator as well as validating the copyright permissions.
Early in the 16th edition development process, we conducted a survey of ORNAC members, consequently, we made several refinements to improve the usability of the standards. A record of changes was introduced, a full table of contents was added to the beginning of the document, as well as abridged names of the sections were added to the hardcopy print tabs. 
28th ANNUAL CONFERENCE LAUNCH
The 16th edition Standards were launched through the 28th ORNAC annual conference in Quebec City. Production editor Lisa Moulton and I had an abstract accepted and presented a poster on the evolution of the Standards over the last few years.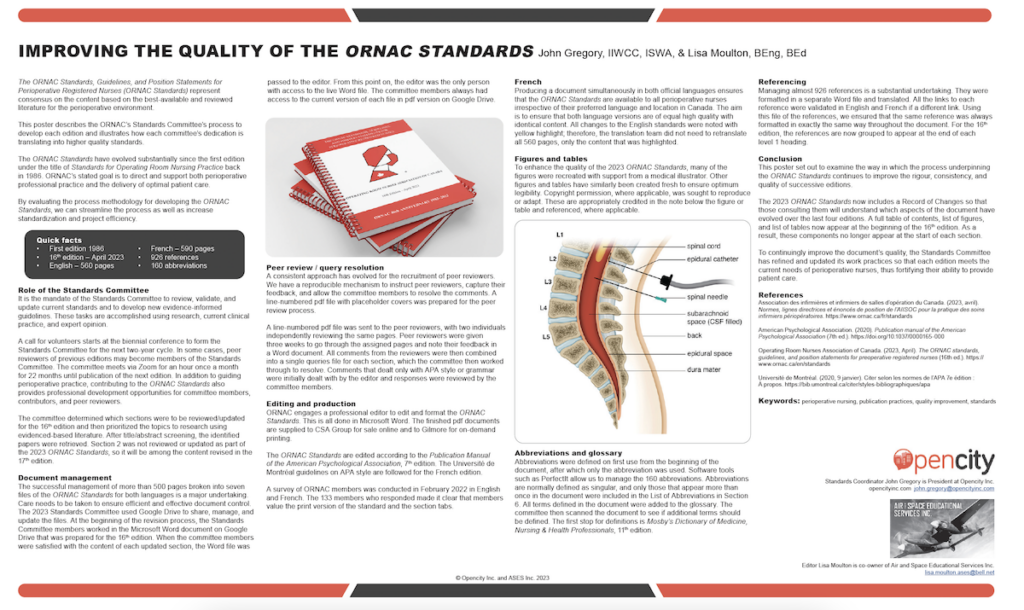 We have proven repeatedly that a dedicated committee across Canada can achieve the development of standards without ever meeting in person. Perhaps by their nature, nurses are not digital natives; however, the projects provide measurable opportunities for personal and professional development. By the time of publication, all those involved have an elevated familiarity with appraising literature, reaching consensus, peer review, and the production of evidence. Technology can be an enabler through supportive tools such as Google Drive, Zoom, or PerfectIt. As a team we learn from each edition cycle taking the most effective process improvements into subsequent projects.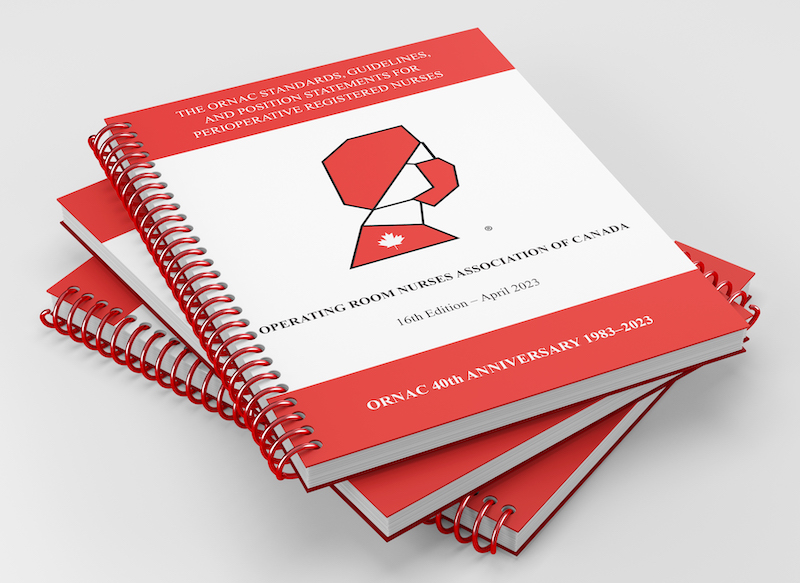 2025 STANDARDS
Work begins immediately on the 17th edition Standards. It is impossible to update all 564 pages of the Standards each round, so the focus will be on updating section 2 on Infection Prevention and Control. Other content will be prioritized for an update. We have also pledged to examine the 928 references. Specifically, to address references, other than seminal papers, that are more than ten years old, as well as harmonizing to the latest editions of the perioperative nursing textbooks such as Goodman & Spry, Potter & Perry, Phillips & Hornacky, and Rothrock, among others. 
It has been an absolute pleasure working with ORNAC on these perioperative nursing standards. All those involved in the committee, peer reviewers and Board should be proud of these latest 2023 ORNAC Standards.