Not a revelation, however, the quality of the project brief is the fundamental predictor of whether a project succeeds or fails.
The ArjoHuntleigh featured image was a wonderful case in point. The original corporate brochure project had no defined project brief and was failing to achieve the desired output. Here we explore some elements of a good brief and the benefit it can bring to your healthcare communications projects.
In my popular LinkedIn Pulse post – The 10 Most Important Things I Learned at ArjoHuntleigh, I described the following;
"I start every single project or assignment with a brief. It forces me to articulate very concisely exactly what you are trying to achieve. The brief invariably defines also a small advisory group/ project team and it is imperative that this is signed off by wider stakeholders. In this way as the project progresses you can continually come back to the original starting brief to determine whether it is still on track and allows clear decisions to be made. In every project I have seen that has gone off the rails and failed, the route cause is almost exclusively that no original brief was created. I actually extended the idea to ensure we provided a brief to each of the leadership summit speakers."
Investing in quality
There is a further clue in the name – brief. It should be possible for any marketer or business leader to write a reasonable project brief in about an hour. This can then be tightened up by other members of the team and in consultation with an agency. It can be challenging to find the right words to really articulate in the best way. Nevertheless, it is well worth the time and effort to invest.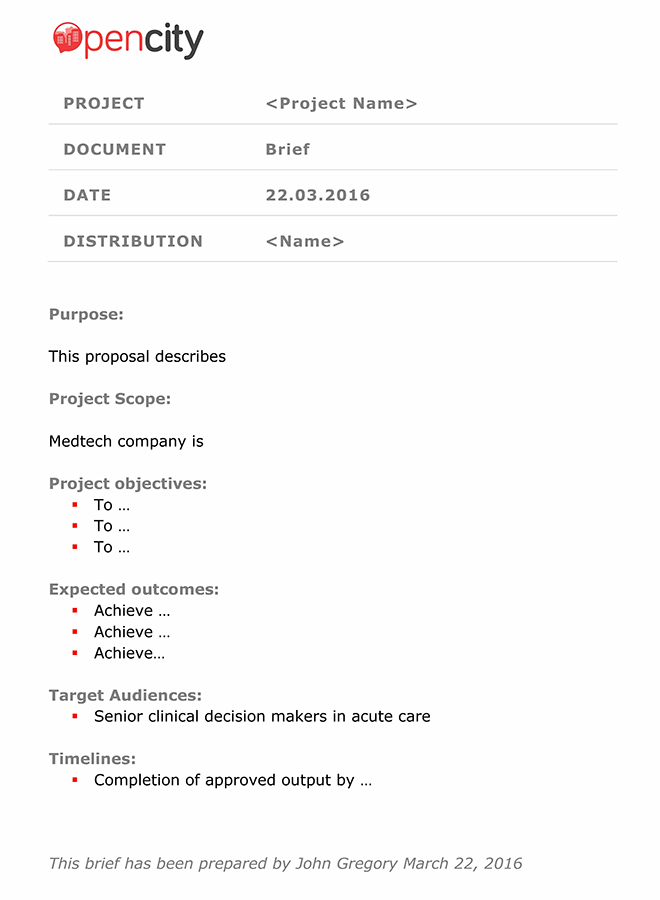 Structure of the brief
Our brief creates structure, giving either the agency, project team or customer clear confidence that we have dedicated the time to articulate what is important.
Purpose – of the brief or document
Project scope – background rationale for the project
Commercial objectives – what you are seeking to achieve
Expected outcomes – what tangible impact it will have
Target audience(s) – who you are seeking to influence
Timelines – when should the project be complete
Brand essence/ corporate visual identify – what specific corporate identify guidelines should be incorporated
Key Messages – what top messages do you wish to convey
Budget – what is the scope of the budget
Project team – who is likely to make up the project team
Contacts – how to get hold of you
We have expanded the idea of the brief to many areas; as guidance for speakers, facilitators, photographers, literature reviews and online projects.
Our series of posts, eBooks and white papers are here to help share some best practices on getting value from your healthcare communications projects.
EXPLORE OUR MEDTECH BEST PRACTICE POSTS
Charity Spotlight
Opencity Inc. think giving a spotlight to charities is important and one way we can be socially responsible.
We have an ask. Tell us which charity is important to you and that you recommend we should feature.