With such an inspiring, high-quality #INBOUND16 conference it is challenging to pull out just 3 themes and must do activities.
#INBOUND16
Here we explore 3 key takeaways from #INBOUND16 in Boston.
Facebook Ads
Video & podcasting
Marketing Free
"The cold call is dead," Brian Halligan tells 19,500 friends from 92 countries.
Facebook Ads
Larry Kim from Wordstream session The Top 10 facebook and Twitter Content Promotion Hacks of All Time took us on a journey to Mars!
"Using micro-budgets of $50 to get the ball rolling," advises Larry Kim. "Pay to promote the content unicorns. Don't send donkeys into outer space."
It was highly significant to hear Chris O'Donnell, VP product at HubSpot announce that HubSpot is partnering with Facebook Ads.
Our historical view had been that LinkedIn and Twitter are more relevant offsite channels. However, we will start experimenting to audition our content and only promote the victors through Facebook Ads.
Video & podcasting
This was an important recurring theme kicked off by Gary Vaynerchuk in his opening night keynote. Kristen Craft from Wistia's session Using video to do better marketing with HubSpot was excellent.
"50% of content should be video"
Kristen shared excellent data on the higher engagement rates on video placed above the fold and less than 1-minute in length.
We will explore a separate post on how to create, edit and upload a high-quality video within 10 minutes. I have signed up with Wistia to try it out.
The Podcasting: A Starter Guide for Agencies session by Jenny Butler from HubSpot was a terrific session that stimulated many how-to questions. The Growth Show recording boots at Club Inbound was a great idea, as are the podcasts themselves. Here Jenny shared a quick reflection and encouragement to start podcasting.
Marketing Free
This was a huge announcement by Chris O'Donnell on the main stage. It extends the free Leadin tool, which becomes renamed as Marketing Free
The HubSpot Marketing Free stack together with the free HubSpot CRM will be a huge draw for start-ups, small businesses, and non-profits. Congratulations HubSpot.
This was further examined by Shay Redmond in his Lead Flow breakout session. Here Shay shared a quick reflection.
We will update and expand our former posts on Inbound on a Shoestring budget and Inexpensive Inbound tools. On the subject of free, the HubSpot Academy has expanded the number of certificates openly available. We highly recommend them.
Twitter follower selfie
It was fun to get up on stage for a selfie with Ryan Bonnici and Isabella Eisenmann in front of 19,498 inbound geeks! Sadly, we didn't get a selfie with the lovely Anna Kendrick.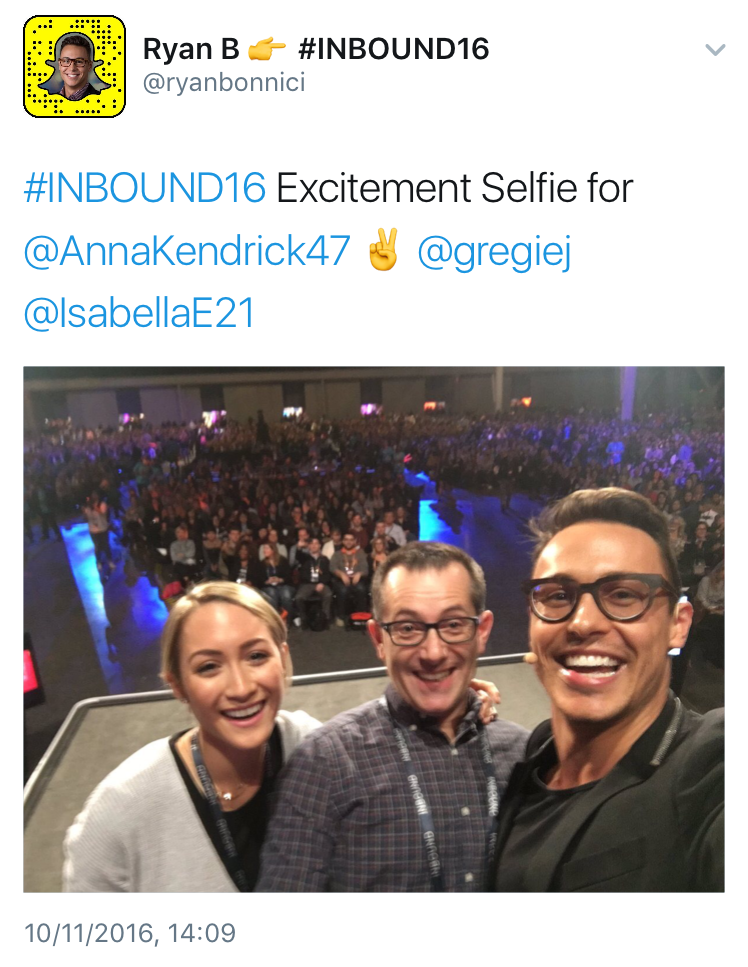 We have grown the International Canoe Federation @PlanetCanoe Twitter account by 20k followers this year to 27,000 followers. I was fortunate to be part of the team at the Rio Olympics. Posting more than 8,000 tweets this year also helps!
Nominate our next Charity Spotlight
Opencity Inc. thinks giving a spotlight to charities is important and one way we can be socially responsible.