You can increase your odds of winning a Hackathon by following these ten simple tips.
How to win a Hackathon?
Teams that win have used the mentors available to them. Seek them out. Invite them to challenge your assumptions, model, and presentation.
Think about how you will make money from your innovation. When will your start-up break-even?
What is the market potential for your innovation? With whom are you competing?
What are your customer target audiences? Describe these personas in detail.
Are you selling to a person living with a condition, their caregiver or their healthcare professional? Who will make the financial buying decision?
How often will the customer repeat purchase?
What is your customer value proposition? What positive outcome will the customer experience?
What customer insights have you already sought or what customer insights will you need to validate your assumptions?
Should you register as a for-profit business or a non-profit charitable organisation?
Practice your presentation. Don't just read the slides. What can you eliminate from your slides? All presentations must have an ask. What is your ask?
Google Canada's Managing Director, Sam Sebastian interviewed on CBC Metro Morning recently commented that while we have great product innovators in Kitchener-Waterloo we have a void of strategic commercialisation expertise.
If I were judging, my investment decision (who wins) would be based on who has the most thought out business case and not who has made the most progress on the product development over the weekend. Be cautious not to focus all your time on the tech component and fail to articulate how to make a commercial success. New business ventures are likely to fail because they run out of cash.
Hacking Health – Hackathon 101
It's OK to be utterly confused by the word hacking. Hacking in healthcare has been a hot topic in 2016. In this post, we explored these new converging ideas. Scott Brinker nicely portrays hacking as inventive, building through agility,  transparency, collaboration yet steered by strategy.
Hacking Health is a Montreal organisation that has spawned a global movement bring together healthcare practitioners, technologists, and entrepreneurs to solve healthcare problems.
"Hacking Health is about breaking down barriers to innovation in healthcare, and we mean it. This is the last frontier, this is the last industry that yet has to be transformed by agile approach and digital technologies. Hackathons are ways to demonstrate that a lot can be achieved when people work collaboratively together, building solutions rapidly and with an agile approach. We hope to inspire enterprises and institutions to do it for real now…. And transform healthcare, and health altogether"; says Luc Sirois, co-founder and leader at Hacking Health.
Hackathon organiser, Sara Bingham was interviewed in The Record here.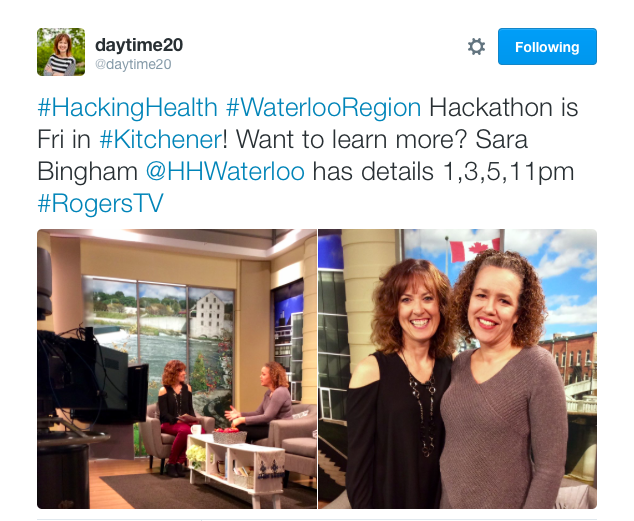 Roze Labs winners of Hack4Health 2.0
The Roze Labs team deserved to win the Hack4Health 2.0 with the clarity of their presentation.
We were delighted to be mentoring in a Kitchener-Waterloo Hackathon for the second time. The Hackathon brings together young entrepreneurs, technologists and healthcare practitioners who are looking for solutions for Brain Health, Aging, and Wellness.
LEARN MORE ABOUT HACKING HEALTH WATERLOO
Nominate future Charity Spotlights
Opencity Inc. thinks giving a spotlight to charities is important and one way we can be socially responsible. We look forward to producing a forthcoming feature in conjunction with the MS Society of Canada.
NOMINATE YOUR CHARITY SPOTLIGHT