Many organisations are hedging between onsite blogs, Medium and LinkedIn Pulse. Here we explore key questions, insights and offer recommendations.
Which blog publishing platform is the most appropriate in what circumstance or whether you should post the same or different content to each?
Brands that blog generate 67% more leads per month than those that don't.
Blogs give websites 434% more indexed pages and 97% more indexed links.
The landscape has evolved
With Web 1.0 we started with static web pages and weblogs through Blogger (originally Blogspot), WordPress and other similar platforms.
Web 2.0 with improved web technology has seen a rise in onsite blogs as well as new publishing platforms such as Medium, Tumblr and LinkedIn Pulse.
How do we now harmonise these content publishing platforms with the newer inbound methodology on how to attract, convert, close and delight personas through the buyer journey?
Onsite blog
These are integrated into the CMS of the website. A responsive theme is paramount. These provide you the greatest ability to optimise the content. Each blog post creates a new page that will be indexed by search engines. Once amplified through offsite channels these drive traffic back to the website; boosting the online authority of your domain and brand.
Medium
Medium is an online publishing platform launched by Twitter co-founder Evan Williams in 2012. The platform shows that anyone can now be a journalist and publish content. Medium is regularly regarded as a blog host. This is likely to offer you the largest mass reach.
LinkedIn Pulse
LinkedIn sees themselves as a social thought leadership networking service rather than a blog publishing platform. Yet, following an acquisition in 2013, Pulse was launched within the LinkedIn platform. LinkedIn added an analytics tool to its publishing platform in 2015 and has recently upgraded the user interface again. LinkedIn Pulse offers you reach among your connections.
Standalone blogs
There are many additional popular blog/ website platforms including Blogger, Tumblr, Ghost, Squarespace & Wiz. Medium also fits in this category as well as WordPress when not part of your website domain architecture.
Back to our question where to blog?
Martin Olausson, Chief Analyst and Business Strategist at Zooma believes that it depends on your goal.
"Assuming that you work according to the inbound funnel, an onsite blog is a prerequisite," he says. "If you're not utilising an onsite blog, on your own domain, you're not building SEO to your own domain. When you post on LinkedIn or Medium you're building SEO for those domains. However, using LinkedIn and/or Medium to amplify your reach is great since you can't really achieve that level of reach on your own."

"There are of course other forms of business models where it would be fine to just go for LinkedIn, e.g. if you are just trying to get connected with people on LinkedIn and that is the basis for your business model," says Olausson.

"It's fine (and even recommended) to publish that content also on LinkedIn Pulse and/or Medium depending whether you want to maximise traffic to a site or just build awareness. i.e. should you put up the full content on LinkedIn and Medium or just teasers? If you put up the full content you'd likely drive significantly less traffic to your own site but on the other hand, you'd likely get more shares of your content (and hence better reach)."
The LinkedIn Pulse functionality is only currently available within the personal account profile section. One industry expert said, "LinkedIn seems to be struggling with who they are (were)." Should LinkedIn perhaps incorporate the Pulse functionality into the company pages?
Research insights
Our research across Canada, US, UK and Sweden revealed
75% use an onsite blog most frequently to publish content
76% of respondents have an onsite blog, 30% use LinkedIn Pulse or a standalone blog and 15% use Medium. Respondents are using more than one platform
72% publish the same content to more than one platform with 18% publishing different content to different platforms. The remaining 10% published elsewhere
60% of respondents publish blog content to improve brand authority, 20% to increase personal online presence
50% of respondents use an onsite blog primarily for business, 57% and 60% use LinkedIn Pulse and Medium for both business and personal respectively
Onsite blogs were given a higher rating in our survey than Medium; with LinkedIn Pulse the least
Coincidentally, inbound.org ran two polls of their Daily Digest subscribers in the last month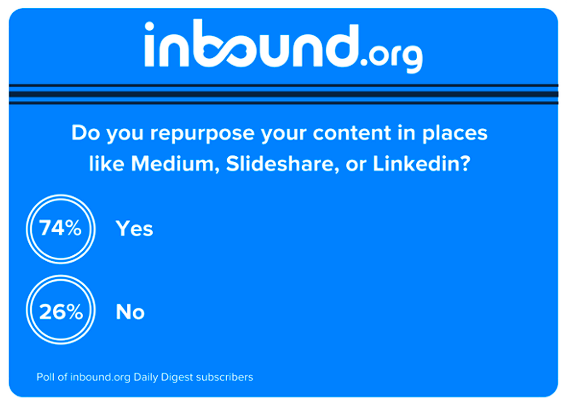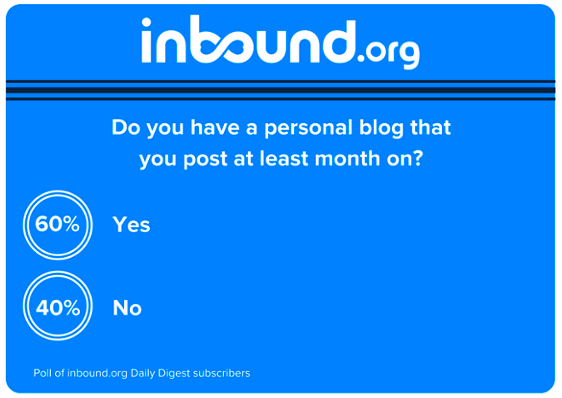 Aliki Courmanopoulos, Director Marketing and Communications, PMI-Montréal shared her extensive insights,
"It's important to create original content on your website to drive traffic, but sharing links is not enough to get your message to all your potential clients."

"People respond to people. There is a huge difference in engagement quality when you post as a person versus as a company."

"It's important as an individual working for a company that you participate in the conversation online. This is where LinkedIn's Thought Leadership comes in. As an individual with a trusted point of view among your contacts, posting on LinkedIn allows you to connect, while at the same time linking back to your company's page, blog post or other content. You have to complete the social circle between organisations and people."
Opencity Inc. experience
We use onsite blogs, LinkedIn Pulse and Medium on a consistent ongoing basis. We post multiple times a week using our onsite blogs. We post content to LinkedIn Pulse and Medium less often but always pointing back to the core website. Our reach through LinkedIn is larger and we gain higher levels of engagement. As individuals, we also maintain a small number of personal responsive themed standalone blogs using Blogger or WordPress.
HOW TO WRITE AND OPTIMIZE A BLOG POST IN 45-MINUTES
Recommended next steps
Take immediate steps to transfer standalone business blogs sitting outside your website into an onsite blog, which will use your website domain
Publish the first post to LinkedIn Pulse if you have never tried it before
Sign up to Medium, complete your profile, linking back to your LinkedIn profile and website
Publish the first post on Medium if you have also never tried it before
Comment on other people's posts on LinkedIn Pulse & Medium
Take a popular blog post from your website and post a re-edited version on LinkedIn Pulse and Medium
Amplify your blog post through offsite (social media) channels
Experiment and take a look at the engagement analytics
Verdict
 "So it really comes down to what your primary goal is," Olausson concludes. "However, if your business model requires that you build you own sites SEO and you need to convert leads onsite, you'd still better off with an onsite blog".
Acknowledgements. Featured image and introductory stats courtesy of HubSpot. Daily digest polls courtesy of inbound.org. Thanks to those that completed our online Netigate survey and those quoted above. 
Charity Spotlights
Opencity Inc. thinks giving a spotlight to charities is important and one way we can be socially responsible.