The surgical creation of a urinary diversion is necessary for managing diseases affecting the urinary tract. Such procedures can be life altering. While not all urinary diversions are related to malignancy, bladder cancer is the leading cause for cystectomy and urinary diversion creation. 
Prior to publication in 2022, there was no national Canadian evidence to promote standardization in the delivery of pre- and postoperative care for individuals undergoing a urinary diversion. In this case study, we look back at the development and publication of the Canadian Urinary Diversions Position Statement. 
Urinary diversions
A urinary diversion is a general term used to describe the elimination of urine from the body (most often) through a surgically constructed intestinal segment. Five different urinary diversions were examined within this position statement for surgeons, NSWOCs, and urology nurses. The five urinary diversions presented are:
ideal conduit;
orthotopic neobladder;
Indiana pouch;
Mitrofanoff; and
cutaneous ureterostomy.
Through the creation of this position statement, we have had the opportunity to emphasize the fundamental principles of each of the 5 urinary diversions into one singular document as a reference  to assist health care professionals to care for, educate and counsel patients. Leveraging best evidence and expert opinion, this dociment presents standardized clinical best practices for the pre- and postoperative care and management of patients undergoing a urinary diversion.

Debra Johnston, task force lead
Download the Urinary Diversion Position Statement here
Enablers development
The ability of registered nurses to be able to utilize the work from the position statement readily was enhanced through the development of enablers. Although somewhat of a pivotal table brought together the five urinary diversions in a side-to-side comparison. Surprisingly through all the literature reviewed there was not one table summarizing the five diversions.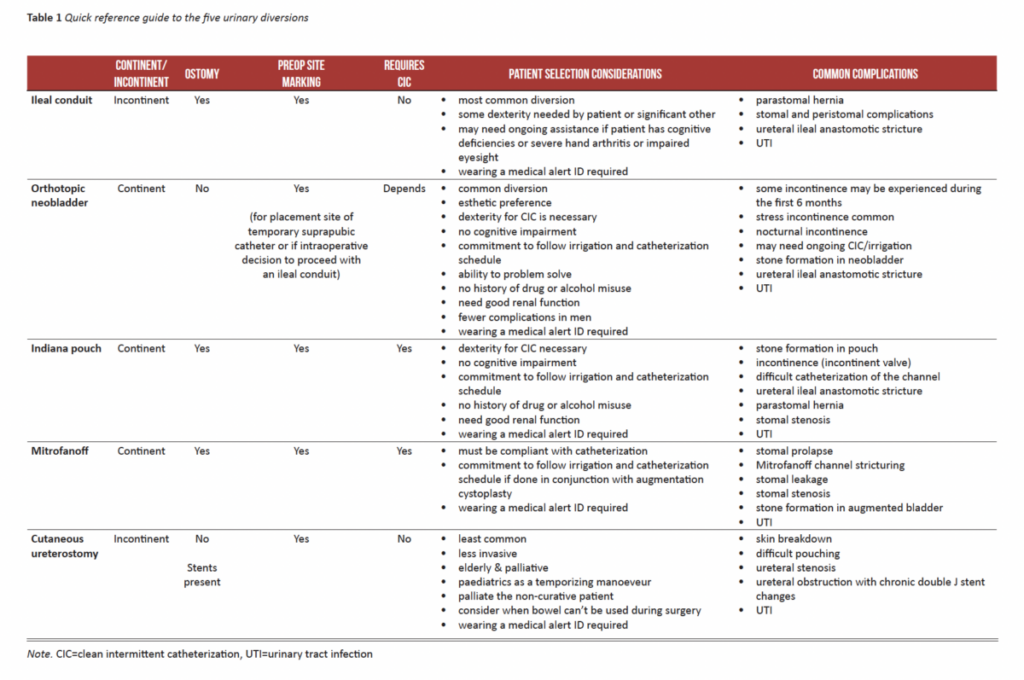 The scoping review and synthesis allowed us to identify seminal work by other research groups with which nurses in Canada may not yet be familiar. An example in this urinary diversions document are the Ottawa decision aid tool that assists patients in choosing between an ileal conduit and a neobladder. The Danish authors of the Urostomy Education Scale developed with the European Association of Urology Nurses (EAUN) gave permission to include in this position statement. The validated tool evaluates urostomy self-care skills among patients who have a stoma resulting from radical cystectomy due to muscle-invasive bladder cancer.
Collaboration
The journey to publishing best practice evidence involves many people. The task force comprised ten urologists, nineteen NSWOCs, two urology nurses, and one other clinical nurse specialist. Professional Development Core Program Lead Debra Johnston expertly led the whole process. Research of the evidence was facilitated by Dr. Kevin Woo from Queen's University. The document comprised two principal sections; preoperative counselling and health-related quality of life considerations, and urinary diversion pathways.
The highlight of this project was the collaboration in  bringing together the interprofessional  experience and  expertise between the three organizations. Each task force member was passionately invested in creating a user friendly, succinct document to promote best practice of these patients. We hope the document and the embedded enablers support practice and positive patient outcomes. 

Debra Johnston, task force lead
The Canadian Urinary Diversions Position Statement broke new ground when it was formally endorsed by CUA and UNC. Collaborating organizations have gone on to host the publications on their websites and promote them through annual conferences and other communication channels to their members.
Improving best practice evidence through this position statement
We submitted an abstract for the 22nd NSWOCC Annual Conference in May 2022. A poster was presented on how the quality of these publications has been successively improved since 2019. An expanded manuscript has been accepted for publication in a peer-review journal. Here are some of the ways in which we sought to improve the process for this position statement.
Engaging a medical illustrator to assist in the development of tailored figures to complement the textual content.
Incorporating a formal conflict of interest form for completion by all task force members.
Seeking formal endorsement with the collaborating associations.
Creating a launch slide with a selfie of each member of the task force to celebrate the collaborative effort.
Download the Urinary Diversion Position Statement here
It could be argued that the resulting publication exceeded the usual definition of a position statement. The document is 56 pages with 105 references. On the other hand, it was not a best practice recommendations process. Interestingly none of the peer reviewers noted the contradiction. Should it have been an expert consensus statement?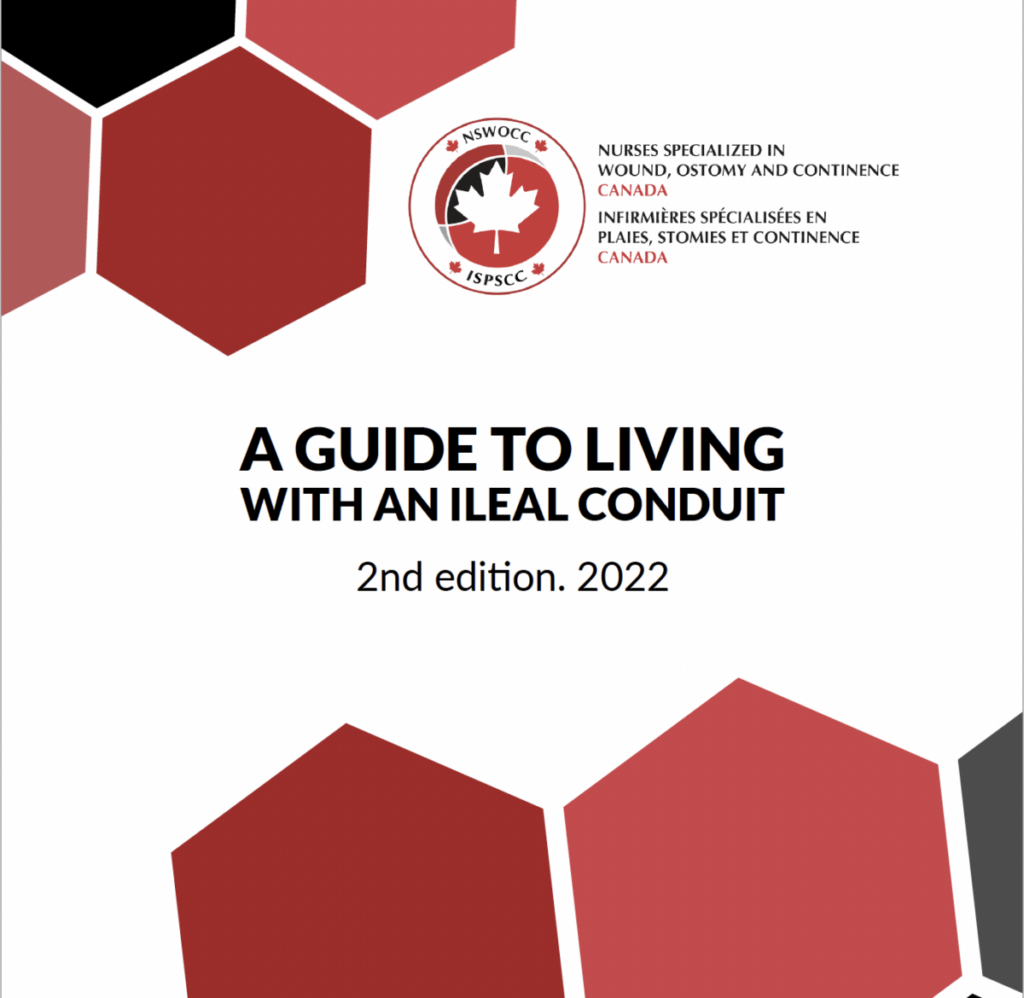 In parallel with the development of the position statement, it became apparent that the patient booklets published as the former CAET organization in 2007 were in need of an update. A Guide to Living With an Ileal Conduit was published simultaneously with the position statement. The content was extensively rewritten, with expanded information around dietary management, physical activity, and parastomal hernia prevention. Other enhancements included improved readability and better illustrations.
It was again a privilege to work with Debra Johnston and the NSWOCC team. Debra has a wonderful style of engaging others to create a motivating work culture. We are initiating plans for a best practice recommendation on malignant wounds starting in January 2023.
---
Opencity Inc. thinks giving a spotlight to charities is important and one way we can be socially responsible.