"Every person deserves specialized wound, ostomy, and continence care."
The summit and proceedings call on the Government of Nova Scotia to strengthen patient access to specialized care.
In this case study, we look back at the development and publication of the proceedings report from the Nova Scotia wound, ostomy, and continence Summit in Halifax on September 22, 2022.
Exposing critical gaps in care
Nurse Specialized in Wound, Ostomy and Continence Canada's CEO Cathy Harley describes why this summit was important. "This wound, ostomy and continence summit was stimulated by a person living with an ostomy in Nova Scotia who identified that there was a lack of access to specialized wound, ostomy, and continence nursing care. When issues such as peristomal skin complications became evident, patients would have to drive up to five hours to seek specialized care."
"For people living with an ostomy, and those with wounds and continence, once the patient is discharged from the hospital, care is required in the community setting or long-term care (LTC). In Nova Scotia, there are no NSWOCs assigned to LTC, and none are employed by VON, which provides most of the home care in Nova Scotia."
"The Nova Scotia Wound, Ostomy and Continence Summit was important to bring the issues facing patients to the forefront and to share information regarding solutions to improve clinical and cost outcomes–in the domains of wound, ostomy, and continence."
Download the Nova Scotia Summit proceedings here
Supporting Sustainability
The half-day summit sought to bring together government, administrators, clinical leaders, patients, and industry with presentations covering the following topics, which then ultimately formed the structure of the proceedings report.
The Current State of Wound, Ostomy and Continence in Nova Scotia from Karla Lohnes MClSc-WH, BScN, RN, NSWOC, WOCC(C) – NSWOC at QEII Hospital, Halifax, Nova Scotia
Patient Perspective – A Need for Better Access to Care from Ann Durkee‑MacIsaac – Chair of the Board, Ostomy Canada Society, Yarmouth, Nova Scotia
Ostomy Impact Study from Kim LeBlanc PhD, RN, NSWOC, WOCC(C), FCAN – Academic Chair, NSWOCC WOC Institute,
The Nova Scotia Continuing Care Provincial Wound Care Program from Sheri McPhee, MEd, BScN, RN, NSWOC, WOCC(C) – Consultant Eastern Zone, Cape Breton, Nova Scotia
Propelling Patient-Centred Improvements with Specialized Wound, Ostomy, and Continence Management from Cathy Harley, eMBA, RN, IIWCC – CEO, NSWOCC
Nova Scotia's Innovation in Wound Care from Karen Cross, MD, PhD, FRCSC – Innovator in Residence, Wound Innovation Project, Halifax, Nova Scotia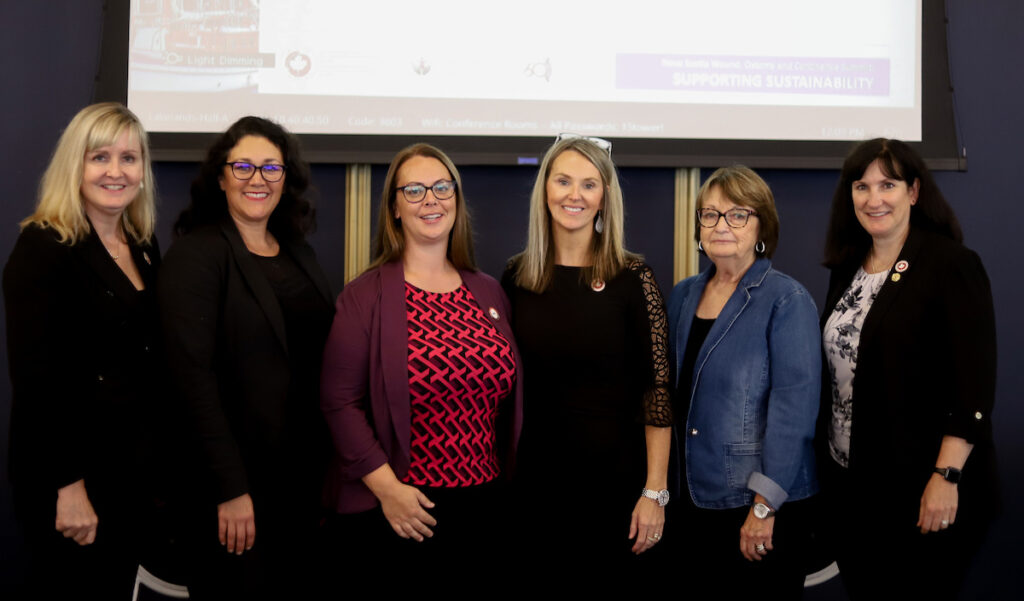 Call to Action
There is a clear call to action in the report that we would like the government and administrators to act on:
The lack of NSWOCs employed in the community and LTC points to substantial gaps in care provision and patient journey. Provincial standards state that rectal cancer care patients will be seen by an ostomy specialist nurse, yet there are hospitals in the province without nurses specialized in wound, ostomy and continence with the knowledge, skills, and judgment for preoperative stoma site marking.
The painful experiences of patients are being heard daily by the clinical community and we now need to prompt the Nova Scotia Health Authority to address them to provide a better patient journey and outcomes. 
The number of cancer consultations is increasing, yet there has been a 0.2 FTE increase in NSWOC positions in an 8-year period. This is substantially less than the rate of population growth and 1.7% growth in those over 65 in the province.
Please consider adding Nurses Specialized in Wound, Ostomy and Continence (NSWOC) to the health provider staff mix as an essential part of health care provider staff mix to support patient-centred improvements.
Developing Skin Wellness Associate Nurses (SWANs) in the community to support day-to-day skin wellness to champion liaison between the NSWOC, who addresses more complex cases to the local nurses who may not have wound, ostomy, or continence expertise.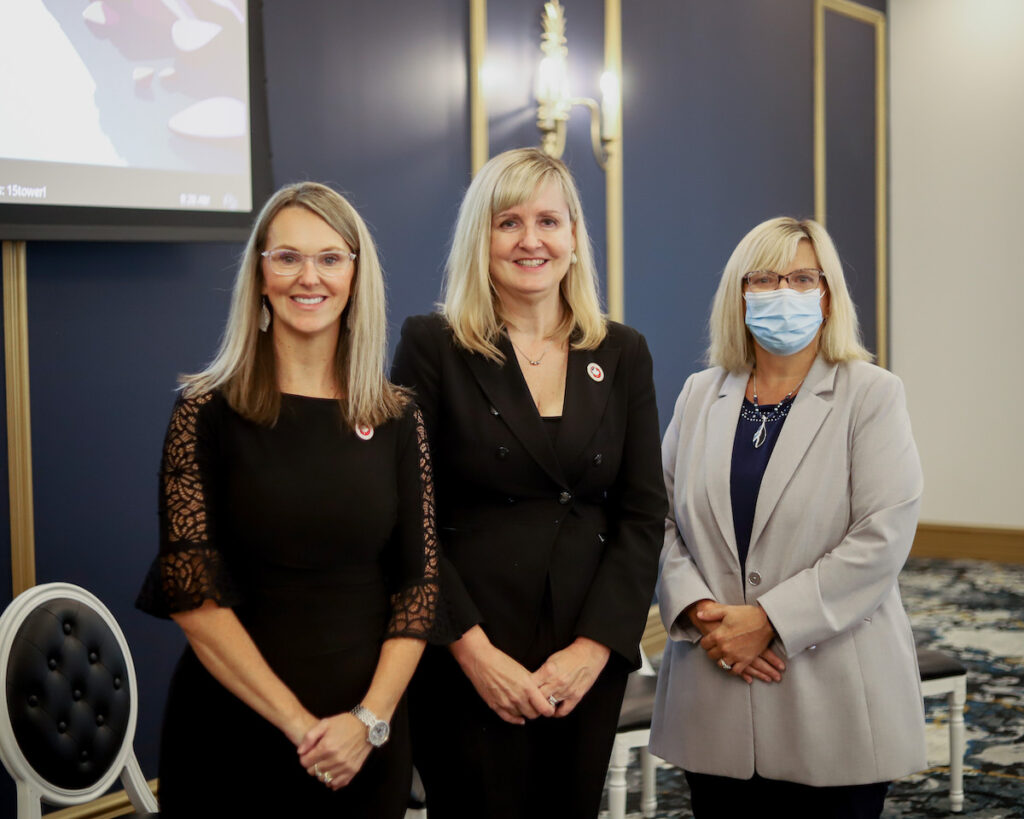 The Government of Nova Scotia must consider strengthening patient access to specialized care
Nearly 50% of home care cases involve wounds
One in four families is living with a wound in Canada
More than 80% of ostomy patients experience a complication within two years after surgery
Incontinence is one of the main reasons cited for admission into long-term care facilities
Download the Nova Scotia Summit proceedings here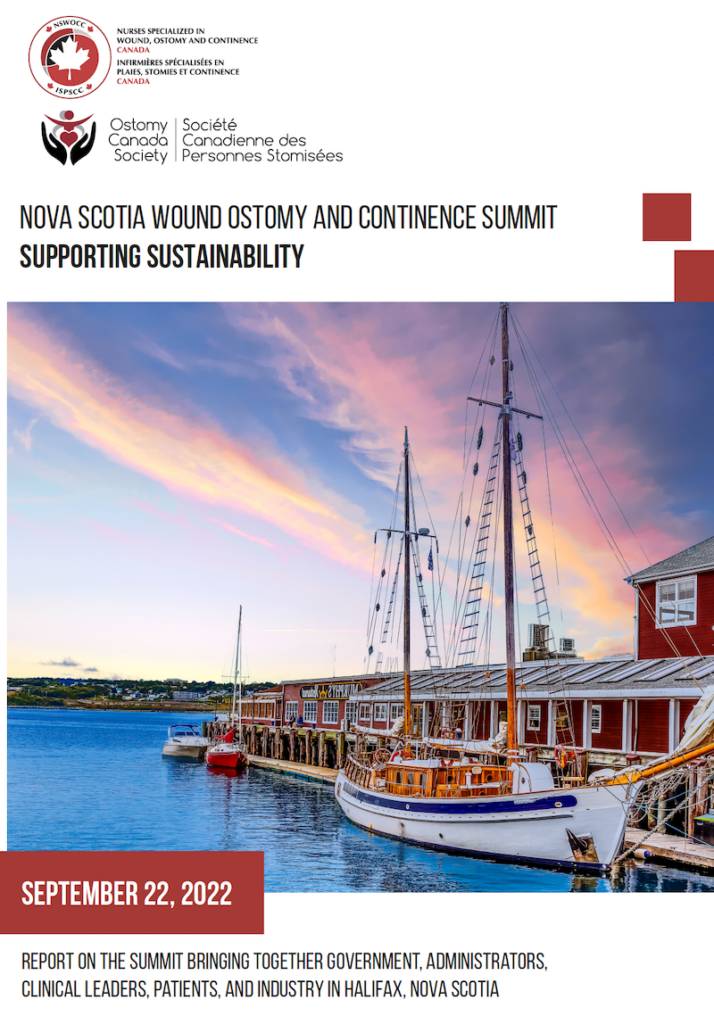 "There is a dire need for NSWOCs in the community. Universal access to a NSWOC will contribute to a sustainable health care system in Nova Scotia."

Karla Lohnes
Thank you to NSWOCC for enabling me to attend the meeting in person. The summit was made possible by a grant from an anonymous donor and industry vendors' support. Regarding mechanics, the panel was recorded on an iPhone and transcribed using Otter.ai. Each summary was reviewed and edited by the respective speaker. Photographs taken by Troy Curtis were shortlisted for inclusion in the document. The final artwork was approved and available to publish within three weeks of the summit.
"John Gregory of Opencity participated in the Nova Scotia Wound, Ostomy, and Continence Summit from the initial idea to the time of implementation and then followed through to write and produce the meeting proceedings. He made himself available to speak with summit participants and understand the issues that wound, ostomy, and continence patients face in Nova Scotia. Opencity provided value not just in the writing of the meeting proceedings, but in the overall summit development and approach."

Cathy Harley, CEO, NSWOCC
Our last proceedings report was for Waterloo Medtech in 2019. These are fun to produce with a combination of journalism and medical writing.
---
Opencity Inc. thinks giving a spotlight to charities is important and one way we can be socially responsible.