Advocating for those with a disability in Ontario has become important to me. This post explains why I am supporting the work of Spinal Cord Injury Ontario (SCIO).
For many years, I have worked at the intersection of pressure injuries, safe patient handling, and spinal cord injury. In short, this led me to project manage policy work for SCIO on access and affordability of medical supplies. This was described in a previous case study. The relationship continued and I am chairing an SCIO advocacy committee. This is a two-pronged approach. One aspect is financing the advocacy work and a second in communicating the message for the needs of those with a disability.
The pandemic has been especially hard on those with a disability. As able-bodied people, we can take the acts of getting out of bed, going to the bathroom, getting washed and dressed for granted. Some of those with a disability depend upon a personal support worker (PSW) coming to their home for these essential attendant services. Through the pandemic, we have increased instances when those PSWs are unavailable. In Ontario, the obligation falls upon the person with a disability to find someone to deputize.
Charity Spotlight podcast episode with Peter Athanasopoulos
I had the pleasure of chatting with Peter Athanasopoulos for a new Charity Spotlight podcast episode. Listen to the 23-minute podcast episode here or on Spotify or Apple Podcasts.
Urgent issues to raise with your Ontario electoral candidates

Access to Mobility Devices
Access to Medical Supplies
Access Attendant Services
OADA Commitment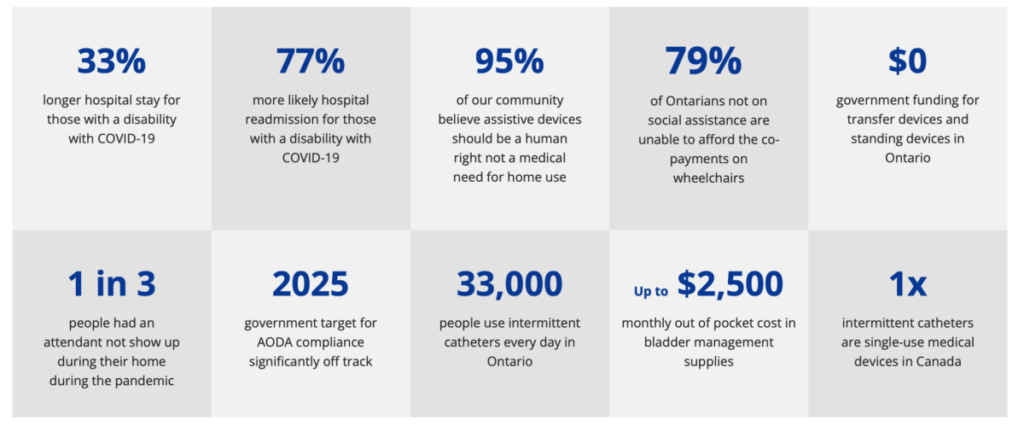 In the Arena podcast episode Say What You Mean, John Ruffolo declares "Wealth brings you health" in his interview with host Linda McLachlan. Venture capitalist Ruffolo suffered a spinal cord injury when he was hit by a vehicle while cycling in Toronto in fall 2020. he is still doing hours of rehab each day. While he needs assistance walking, he is back out on a bike. This interesting conversation looks at legacy beyond provision for one's family.
Elections 2022
One of my favourite questions is often: why now? These issues are not new. Much has been written on how the pandemic has exacerbated the disparity in our health and social care provision.
77% more likely hospital readmission for those with a disability with COVID-19
36% longer hospital stay for those with a disability with COVID-19
These headline statistics published in the Globe and Mail highlight the impact of the pandemic on those with a disability. The results of the study by Dr. Hilary Brown and colleagues were discussed on CBC's The Current with Matt Galloway.
It is a provincial election in Ontario. While progress or commitments have been made by the It is a provincial election in Ontario, and while the government has made progress or commitments, we need to help educate all the candidates and parties on the most pressing matters on which the new Government of Ontario must act. Please join me in support of those with a disability in Ontario. Help us raise funds to bring the urgent issues to the attention of the Ontario provincial election candidates.
"There is no greater disability in society than the inability to see a person as more."

Robert M. Hensel, disability activist and poet
On March 28, CBC published a Go Public feature on the inconsistent funding and patient access across Canada for catheters and related equipment. Read and watch the video here "Paralyzed man says he's risking his health because he can't afford medical supplies he needs to urinate."
The Election 2022 campaign is launched shortly through the YourMoveOntario.ca portal. As we noted previously, the significance of this work extends far beyond Ontario.
Take Action at Your Move, Ontario
Listen to the podcast episode with Peter Athansopoulos. It is available on Spotify or Apple Podcasts. Search Charity Spotlight. Remember to share and leave a review. You can also read our original Charity Spotlight features in 2020 showcased Spinal Cord Injury Ontario.
---
Reference. Brown, H. K., Saha, S., Chan, T. C., Cheung, A. M., Fralick, M., Ghassemi, M., … & Verma, A. A. (2022). Outcomes in patients with and without disability admitted to hospital with COVID-19: a retrospective cohort study. CMAJ, 194(4), E112-E121. https://doi.org/10.1503/cmaj.211277
Opencity Inc. thinks giving a spotlight to charities is important and one way we can be socially responsible.