These intermittent catheterization practice recommendations signify a wonderful collaboration 
among four nursing associations in Canada.
The published recommendations built upon previous work by Opencity Inc on the European Association of Urology Nurses (EUAN) edited summary published in 2016. In this case study, we explore aspects of the recommendation and five lessons learned. 
New collaboration
The Clean Intermittent Urethral Catheterization in Adults | Canadian Best Practice Recommendations for Nurses are the result of a collaboration between Nurses Specialized in Wound, Ostomy & Continence Canada (NSWOCC), Canadian Nurse Continence Advisors (CNCA), Urology Nurses of Canada (UNC) and Infection Prevention and Control Canada (IPAC Canada). The document assists nurses in diverse practice settings to provide evidence-based care to adults requiring intermittent urethral catheterization. The review panel consisted of expert nurse representatives from each of the four collaborating associations.
The document assists nurses in diverse practice settings to provide evidence-based care to adults requiring Intermittent Urethral Catheterization and is intended for use by regulated professional nurses. The four collaborating associations have sought to contextualize the guidelines developed by others. We recognize the difference between the rigour of evidence in a guideline with those of recommendations such as these, which include the opinion of the authors. The EAUN document provided a good starting point for the development of the Canadian best practice recommendations.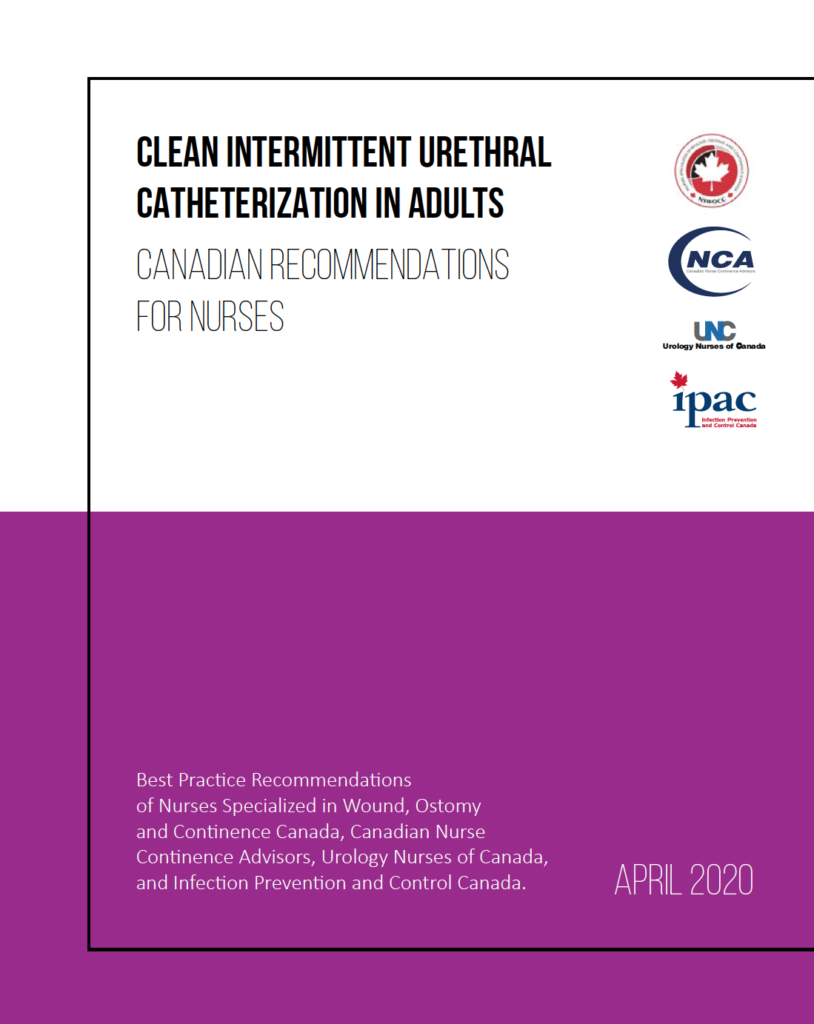 Download the Clean Intermittent Urethral Catheterization in Adults Canadian Recommendations for Nurses.
Industry partners supported the recommendations. Coloplast as a gold sponsor, Bard, ConvaTec and Hollister as bronze sponsors and with additional support from 3M.
7 chapters
We are grateful to the European Association of Urology Nurses (EAUN) for granting permission to cite and include aspects of their Catheterisation: Urethral intermittent in adults. Dilatation, urethral intermittent in adults. Evidence-based Guidelines for Best Practice in Urological Health Care, published in 2013 and the edited summary produced in 2016.
Methodology – The Oxford Centre for Evidence-Based Medicine levels of evidence were used to grade the 54 papers, which had been categorized into three topic groups, compliance, promotion and quality of life.
Indications, contraindications and complications.
Infection prevention and control – Additional papers were referenced in this chapter to support the recommendations provided. These recommendations extended beyond the EUAN guidelines, and the group benefited from the participation of Madeleine Ashcroft representing IPAC Canada.
Impact of intermittent catheterization: patient quality of life.
Catheter materials and types of catheters.
Management of intermittent catheterization.
Patient education.
A glossary of terms was added. A patient brochure is included. Creating a leaflet in plain-English was especially tough, given the term intermittent self-catheterization.
Single-use intermittent catheters
Some catheters are manufactured for multiple use, while others are manufactured for single-use. A single-use catheter is licensed by Health Canada on the basis that it is to be used only once and then disposed after use. Single-use catheters are not designed to be reused and it is strictly against the original equipment manufacturers' instructions. The reuse of single-use catheters is a contentious and evolving subject. The collaborating associations recognize that they are unable to support the re-use of catheters licenced for single use from professional and practice liability perspectives.
Best practice recommendation dissemination
These new intermittent catheterization best practice recommendations were first presented at the Nurses Specialized in Wound Ostomy & Continence Canada virtual conference in May 2020 by Laura Robbs and Laureen Sommerey.
Watch the video presentation of the IC best practice recommendations at the virtual NSWOCC conference.
Download the Clean Intermittent Urethral Catheterization in Adults Canadian Recommendations for Nurses.
"This work was completed entirely using teleconference and other technologies such as Zoom and GoToMeeting. When we first started the work, we thought we would need to meet at least once face to face. But as the work progressed, we found that this was not necessary."

Laureen Sommerey
5 lessons from this best practice recommendation
There should always be lessons learned in every project. Things that you would do differently next time around. There is usually a next time and it is worthwhile to take the time as a project concludes to write these down.
Start early and engage everyone involved from the start.
Create a numerical index of the papers. This makes it easier to keep track of the numbers of papers through the literature review process as well as ensuring the accuracy of references later on.
Be clear on what content you have copyright permission to reproduce.
Ensure that the costs of creating design artwork layouts, revisions and translations have been captured in the project budget at the start.
Plan how the document will be launched, via conference abstracts, presentations or journal manuscripts.
"I was chair of the project to develop Clean Intermittent Urethral Catheterization in Adults: Canadian Best Practice Recommendations for Nurses. We began as a team of clinical experts previously little known to each other. Our decision to engage John Gregory of Opencity Inc. proved to be a brilliant move as it allowed us to focus on our content strength while relying on John's wealth of experience with the process. John's attention to detail was invaluable. He is a respectful and attentive communicator, responding promptly to inquiries, seeking direction as required, and consistently keeping me fully aware of both progress and outstanding issues. John displayed incredible dedication and commitment to our project and played an integral role in the successful completion of our best practice recommendations."  

Debbie Cutting RN BSN WOCC(C) NCA
You can refer back here to our previous case study about the EAUN edited summary.
Congratulations to all four Canadian associations for publishing these first best practice recommendations for nurses. The best practice recommendations will shortly be available in French. They are already influencing work by Spinal Cord Injury Ontario who is building a policy report on the accessibility and affordability of medical supplies in Ontario.
---
Opencity Inc. thinks giving a spotlight to charities is important and one way we can be socially responsible.