People with spinal cord injury (SCI) are at greater risk of contracting COVID-19. Spinal Cord Injury Ontario (SCIO) has pivoted to respond to the needs of the spinal cord injury community through this pandemic.
The risks associated with COVID-19 are high for everyone. And even higher for people with spinal cord injury. Here we explore the SCIO Safe@Home campaign. SCIO will double the impact of your donation to keep people connected to essential lived experience knowledge and support.
VIP4SCI
Spinal Cord Injury Ontario has rolled out a program to help those with SCI connect during this crisis. Those who use wheelchairs can, at times, be dependent upon others for care services and transportation. The Virtually Integrated Platform for Spinal Cord Injury (VIP4SCI) aims to provide connection in a crisis.
"We work closely with our community to determine what services are most critical to them," says Dr. Stuart Howe, CEO of SCIO. "Providing customized support through our virtual platform – VIP4SCI – especially during COVID-19, helps our clients overcome isolation while they focus on rehab and gaining independence after SCI. Donations to our Safe@Home mix of resources are matched by our Board of Directors, so it's an ideal time to support these efforts to keep Ontarians safe and connected."
The VIP4SCI allows regional staff and peer mentors to remain connected with newly injured people and their families. A pilot study generated input from people with SCI, their families and clinicians that contributed to the development of VIP4SCI.
Power of Connection
The above Power of Connection video explores Peter's Story .
The impact of your support is now doubled to connect newly injured people and their families with the SCIO support network in a secure online environment. The SCIO volunteer Board of Directors will match $75,000 in donations in 2020.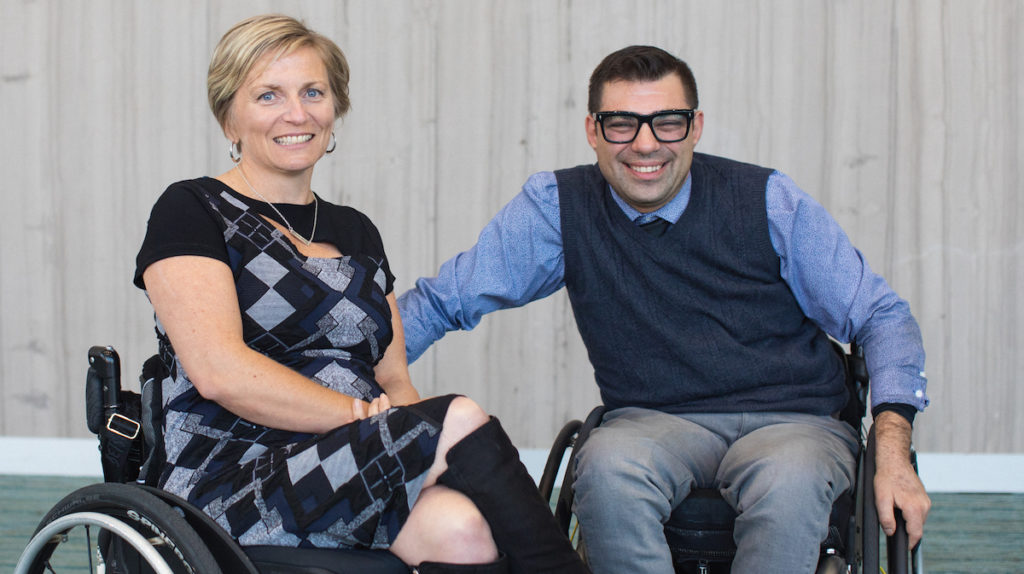 "It was through meeting with peers, people who were in the exact same situation as me, doing amazing, bold, tenacious things – and that was my personality… so I wanted to pursue those kinds of active things again," reflects Peter Athanasopoulos, SCIO's Director of Public Policy.
SCIO's 75th anniversary
Spinal Cord Injury Ontario is celebrating 75 years since it started in 1945. Read more here about the origins and how SCIO continues to drive towards a vision of people with SCI living the life they choose in a fully inclusive Ontario.
The above video looks back at the history of SCIO.
The Spinal Cord Injury Ontario website is informative and easy to navigate. There are specific COVID-19 updates and resources. We recommend the SCIO Voices Blog where every voice matters providing insights and information for and by our community on issues related to accessibility, advocacy and living the life you choose
---

We are honoured to be working with SCIO on a business case development on the accessibility and accessibility of medical supplies for those with spinal cord injuries. Help SCIO exceed its fundraising goal of $45,000. By pledging $150, your SAFE@HOME matched funds will provide one person with access to VIP4SCI for a year. Or you could choose a monthly gift from $12.50 to give access to this essential service.
Nominate our next Charity Spotlight feature or podcast episode
Opencity Inc. thinks giving a spotlight to charities is important, and one way we can be socially responsible.