The release of the new proceedings report from the Waterloo MedTech conference could help solidify a jump off point for our support of health tech scale-up in the Waterloo Region.
The proceedings report from the Canadian MedTech: What's holding is back? shares how the conference wove the ideal balance of no-holds-barred storytelling, policy insights, and pertinent panel discussions. We explored the theme for this conference in our prior post What's holding us back in Canadian MedTech. The over 200 attendees appreciated the top 7 innovators and start-ups showcase and the inaugural 2018 MedTech Awards.
Explore the proceedings report
DOWNLOAD THE PROCEEDINGS REPORT
"In Waterloo we have our outstanding technological ecosystem and incubators with proven success, our outstanding postgraduate institutions, the Perimeter Institute, our nanotechnology centre, and the latest winner of the Nobel prize in physics, Dr. Donna Strickland from the University of Waterloo. We need to find a way to come together to make this happen because if we don't, the outcome for our health system and our economy is unthinkable," remarked Dr. Doug Dittmer, Physical Medicine and Rehabilitation Physician.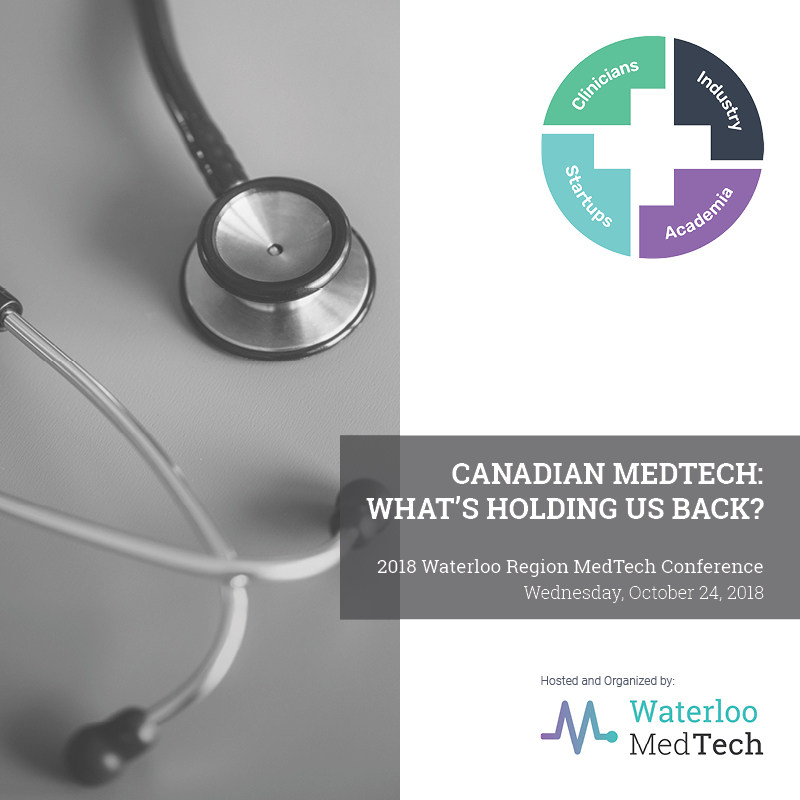 Health 3.0 – Digital Health: Reimagining Health Care
The high-calibre array speakers and panelists was opened with a video address by the Honorable Bardish Chagger, Leader of the Government in the House of Commons and Waterloo MP. Chair & Special Advisor Premiers' Council on Improving Healthcare and Ending Hallway Medicine, Dr. Rueben Devlin, described a digital transformation of health care with the technology world as a partner. 
Inaugural 2018 MedTech awards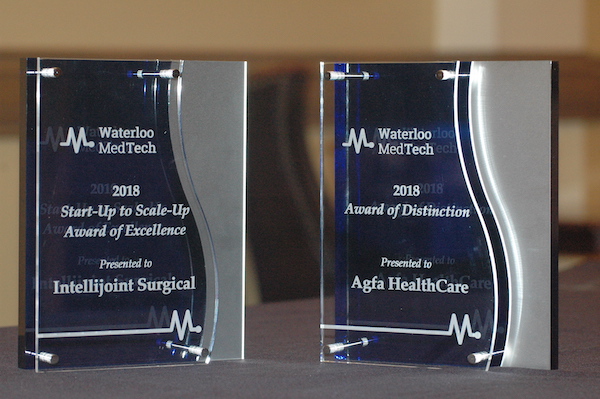 Congratulations to Intellijoint Surgical and Agfa Healthcare. Read more about them in the proceedings report. Seven innovators and start‐ups presented in the popular showcase session.
Spencer Waugh CEO, AceAge
Arjumand Ateeq, Founder & CEO, Baysil Inc.
Bobby Green, Co-founder & COO, Amina Health
Patricia Quinn, Co-founder & CEO, Monarch Collection Inc.
Wayne Li, CEO, NextUp Care
Noah Debrincat, Co-founder & CEO, SannTek Labs
DOWNLOAD THE PROCEEDINGS REPORT
We just need the will to make it happen
We should use the call to action from the conference to collaborate with clinicians, start-ups, academia and industry. The gap is for a med/health tech scale-up solution in the Waterloo Region. A hub located in a healthcare setting could allow entrepreneurs, clinicians and mentors to work together better.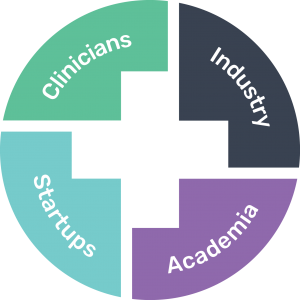 We encourage you to subscribe to the Waterloo MedTech YouTube Channel where you will find videos from the speakers and panelists.
We are working away behind the scenes to tie health tech to the True North 2019 conference in June. Led by Hacking Health Waterloo in conjunction with True North and other players in the Waterloo Wellington health space we plan to run a hackathon. Watch this space.
Thanks to Rebecca MacIntyre from Intellijoint Surgical and Shirley Fenton from Waterloo MedTech for their help with the proceedings report.
Images and videos courtesy Waterloo Medtech.