McKinsey&Company report $44 billion in beyond-the-product solutions in the US alone. Here we explore how multi-national Med Tech corporations can develop health outcome models. Much of the success lies in creating sustainable cultural change owned by the healthcare system.
Our research indicates that these are financial business models, more than they are clinical programs. While the health outcome measures are clinical, the decision-making on the investment (money and time) is based upon the expected return on investment. Despite a series of interventions many healthcare systems persist with elevated levels of many preventable Healthcare Acquired Conditions (HAC). These represent unnecessary pain on patients and/or caregivers with the associated financial burden.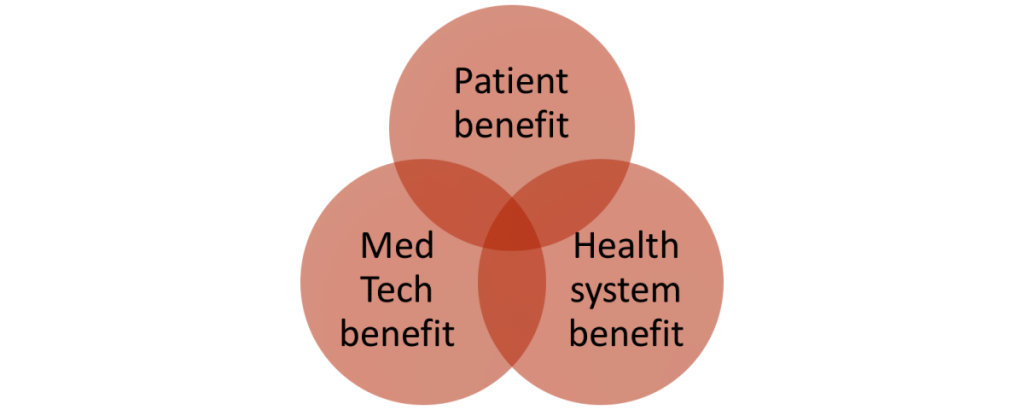 Implementing beyond-the-product solutions can drive benefits for the patient,  healthcare system and the Med Tech provider. Case studies in several therapy areas demonstrate that the decreased costs of treating these preventable healthcare acquired conditions provides excellent return on investment beyond the costs of the interventions.
Many healthcare facilities or systems have tried multiple initiatives over many years to reduce HACs. In many cases the results have not met the desired sustained outcomes. Previous experience with implementation of other cultural change programs supports that customers need some external mentoring to achieve the financial and improved quality of care potential benefits.  The results from Med Tech companies providing targeted consultancy can achieve sustained and dramatic improvement in leading quality health indicators and measurable clinical outcomes.
Critical success factors
Work over a five year period, in different therapy areas and with different Med Tech companies has boiled down the successful execution of these business models to just a handful of critical success factors:
The strategic initiative must be owned by the senior leadership of the health facility customer;
The customer senior leadership recognise that their current approach requires revision in order to improve outcomes and willing to change;
The role of the Med Tech company is to mentor the customer through the process;
Health indicator process metrics and health outcome measurement data integrity is paramount;
A longer term horizon of cultural change is essential to build sustainability;
The Med Tech company must carefully segment to select the right customers based on analysis.
In our previous Opencity Inc. blog post Modelling the Value of Healthcare Outcomes, we further considered the McKinsey&Company article Improving healthcare while curbing cost: Med-Tech companies offer a solution.
Strategic planning steps
Look out for our Med Tech health outcome models white paper in our next blog post in this series. It will explore in more detail the components which comprise these models and different leading and lagging indicators. Finally, our experience has also been that building that hypothetical case study allows many stakeholders to comprehend the potential value of this beyond-the-product solution models.