Kitchener-Waterloo is positioning itself as a driver in the health tech innovation landscape. Waterloo MedTech holds their third annual conference on October 24 exploring Canadian MedTech: What's holding us back?
Here we preview what to expect from the conference and how it helps the Waterloo Region, Ontario and Canada strengthen its vision for innovation.
Solutions to the barriers to innovations in health care
A high-calibre array of more than 25 speakers and panelists pack the one-day conference agenda. The conference opens with Honorable Bardish Chagger, Leader of the Government in the House of Commons and Waterloo MP. The plenary speaker is the new chair and special advisor on health care to the Government of Ontario, Dr. Rueben Devlin, who will talk about the province's health innovation agenda. Dr. Devlin is the Chair and Special Advisory on Improving Healthcare and Ending Hallway Medicine.
"This conference brings entrepreneurs, start-ups, researchers, government, industry experts, thought leaders, and health-care professionals together to focus on identifying the roadblocks that prevent health-care innovators and entrepreneurs from successfully bringing their idea to market and possible solutions," describes conference co-chair, Shirley Fenton. "We have many highly-esteemed experts in innovation and health care. The conference will include a whole day of knowledge sharing through speakers and panellists, plus an exhibit floor featuring medtech companies and organizations, and some of the Region's top health-care start-ups."
A nexus of health, technology and aging
Dr. Josephine McMurray, above, will be one of the panelists exploring Surviving from Start-Ups to Scale-Ups at the conference on October 24.
The conference brings together essential groups; Clinicians, Industry, Academia and Startups. These intersect in a lively melting pot with government stakeholders, community partners and media.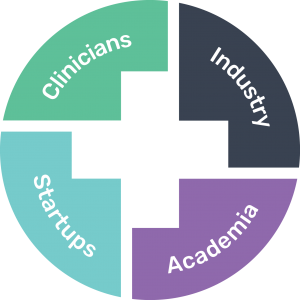 It builds upon last year's conference Barriers and Bridges to Successful MedTech Innovation. You can read more about that conference in this Canadian Healthcare Technology journal MedTech conference brings together innovators and users.
Top 7 Start-Up Showcase
The conference will hear from leaders in some of our most successful scale-ups and our newest start-ups. This includes the Top 7 Showcase of innovators and start‐ups from The Accelerator Centre, Communitech and Velocity.
Spencer Waugh CEO, AceAge
Arjumand Ateeq, Founder & CEO, Baysil Inc.
Moazam Khan, Co-founder & CEO, Curiato Inc.
Bobby Green, Co-founder & COO, Amina Health
Patricia Quinn, Co-founder & CEO, Monarch Collection Inc.
Wayne Li, CEO, NextUp Care
Noah Debrincat, Co-founder & CEO, SannTek Labs
Seeing Canada's Medical Technology Companies Association, MEDEC, as part of the discussion is poignant. MEDEC CEO Brian Lewis, as well as chair Neil Fraser, are among the speakers and panellists. MEDEC has initiated an Emerging Medical Technology (EMT) membership level. This applies to medical technology companies that are pre-commercialized. EMT members receive some of the same benefits as full members.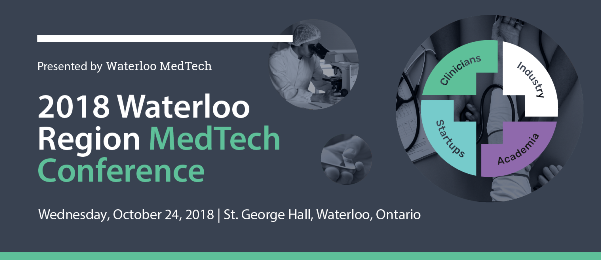 REGISTER NOW FOR WATERLOO MEDTECH
The conference takes place at St. George Hall in Waterloo.
Follow WaterlooMedTech
We encourage you to follow the conference use and search #WaterlooMedTech. I will be providing live commentary on Twitter @WaterlooMedTech.
Subscribe to the Waterloo MedTech YouTube Channel. We will also be posting new videos here from the speakers before and during the conference.
Images courtesy of Intellijoint & Waterloo Medtech. The featured image left to right shows Dr. Doug Dittmer, Conference Co-Chair, Panelist, Karim S. Karim, PhD, Professor, Electrical & Computer Engineering, University of Waterloo and CTO, KA Imaging, Panelist, Franck Hivert, CEO, Oculys, Panelist, Patricia Quinn, CEO, Monarch Clothes, Panelist, Moderator, Zach Weston, Manager, Health System Integration/Performance, Waterloo Wellington LHIN; Faculty Member, Wilfrid Laurier University & Armen Bakirtzian, CEO & Co-founder, Intellijoint Surgical.