The concept of hacking in healthcare provides extraordinary possibilities. Diverse groups can co-create tangible health innovations that bring value to the front-line care of people.
We encourage you to participate in this first dual-city hackathon, run by Hacking Health in Waterloo and Ottawa, in conjunction with the True North conference. There a group of eclectic, bright minds will tackle how we can address Social Isolation, Aging and Technology.
Social Isolation
"Various factors, such as disability and major life events such as the loss of a spouse, can put older adults at risk of experiencing social isolation and loneliness. We look forward to great solutions coming out of the hackathon to address this pressing health issue," remarked Bruce Lauckner, CEO Waterloo LHIN.
Social Isolation can also affect young people. A St. Paul's Greenhouse student at the University of Waterloo described how she contracted cancer in her early twenties. In spite of being outgoing and her familiarity with social media, she still felt socially isolated. Much of the cancer support is aimed at either children or older adults. It was hard to relate her feelings with family and friends who did not have the same experience. She created an app to connect young adults with cancer. In another example, CEO of Epilepsy Southwestern of Ontario, Cynthia Milburn, spoke at a recent Hacking Health Waterloo cafe to describe the feelings of social isolation that impact those at risk of seizures or living with epilepsy.
Tech for Good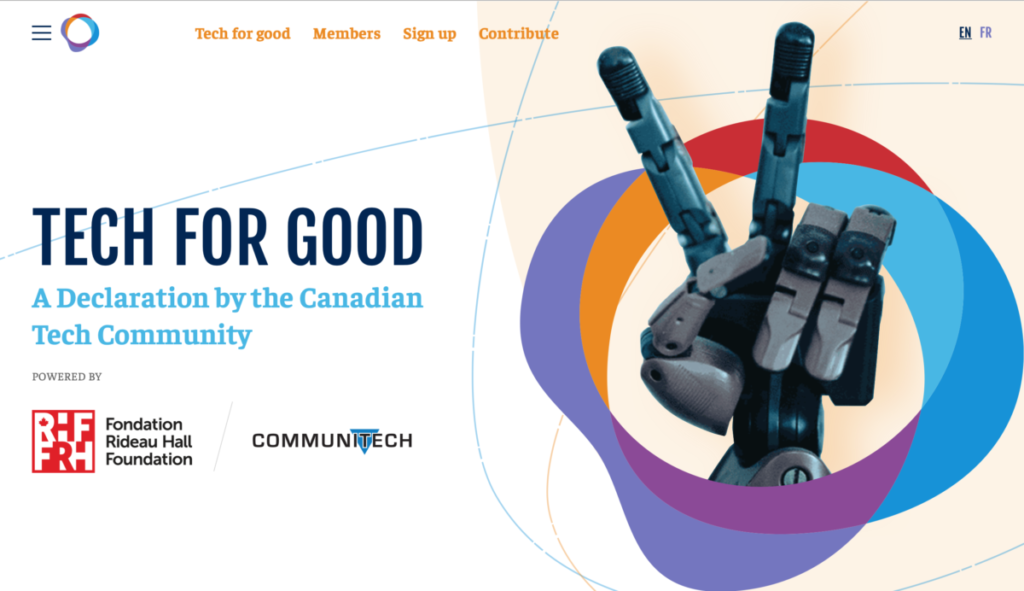 The True North conference last year at Lot42 created the Tech for Good Declaration. We signed up to adhere to its principles.
We felt a tangible way to demonstrate Tech for Good was through a health tech hackathon. As our Hacking Health Waterloo group started to engage with Communitech and community partners, our sister group Hacking Health Ottawa jumped on board to coincide the hackathons in both cities. This hackathon comprises a series of events. The Pre-Hackathon Development Workshop at Communitech was inspiring. It included speakers Dr. Jospehine McMurray, Sameer Khan and Matt Borland. In fact, Sam and his partner Krysta Traianovski were one of the winners from the last Hacking Health Hackathon in Waterloo. Their startup BrightGuide uses video to help people dementia to complete everyday tasks. Other local hackathon winners have included Curiato, who won the first Hack4Health run by the University of Waterloo. Curiato is part of the Velocity program and you can read more about them in this post.
The slides from the Pre-Hackathon Development Workshop are available here. They will help you learn more about Social Isolation and what to expect at the hackathon.
"I've spent my whole working life looking after seniors and their families," says Geriatrician and Internist, Nicole Didyk, "A big challenge is when the seniors that I see are socially isolated so that can happen in a lot of different ways. What it boils down to is it makes every single medical condition that a person can have much worse. When a person is isolated, they're cut off from people, from health care, from social interaction."
If like Dr. Didyk you didn't know what a hackathon was but it sounds trendy and a way to bridge technology with patient care, we explain more below about what you may expect on May 31-June 2 at Kitchener City Hall.
Dual-city Hackathon
Hacking Health is a grass-roots movement built upon the premise of co-design by a broad, diverse spectrum of passionate innovators.
JOIN THE DUAL-CITY HACKATHON IN CONJUNCTION WITH TRUE NORTH
And, to tie back into True North, a grant from AGE-WELL has enabled us to plan a special True North Hackathon Finale Showcase. This will bring some of the winning teams from Ottawa and Waterloo together at Communitech the night before the conference starts. You can read the rules for the dual-city hackathon here.
Sparkboard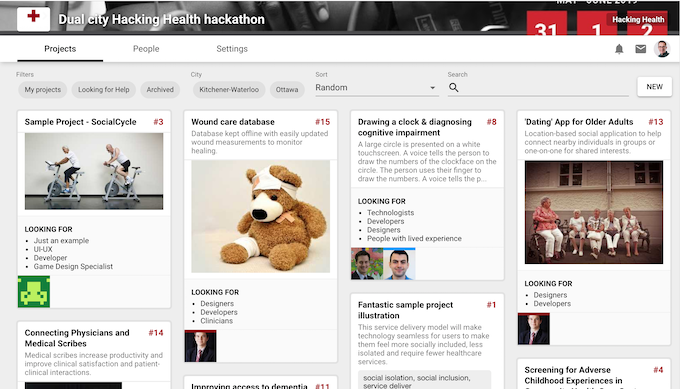 FIND A TEAM OR PROJECT ON SPARKBOARD
We have also created a quick GoVideo to guide you on how to create a profile on Sparkboard, how to create a project or join a team.
You must register on Eventbrite to join the Hacking Health dual-city hackathons in conjunction with True North. These take place in Waterloo and Ottawa May 31-June 2, 2019. I can't wait to see what you come up with.
JOIN THE DUAL-CITY HACKATHON IN CONJUNCTION WITH TRUE NORTH
It has been a pleasure working with the energetic True North team at Communitech. We can't wait for the two-day conference to start on June 19-20. We intend for the Hacking Health Hackathon in conjunction with True North to become a regular annual program. We have already begun to plan on how we can take it to the next level in 2020.