There are a plethora of health tech innovation conferences exposing how AI can transform healthcare. It is poignant then to see one that is physician-led while noting the valuable role of the pharmacist in how innovation can revolutionize the patient experience.
The inaugural Technology & the Future of Health Care Conference at the Hamilton Convention Centre rounded-off the Hamilton Health Innovation week. Here we examine some of the core messages from the physicians, entrepreneurs, academia and healthcare leaders.
Dr. Deepak Kaura, Chief Medical Officer at Joule, described how Creativity is applied imagination and how applied creativity is innovation.
"A system that allows you to dream, cultivate and deploy," emphasizes Dr. Kaura.
Health tech innovation must reads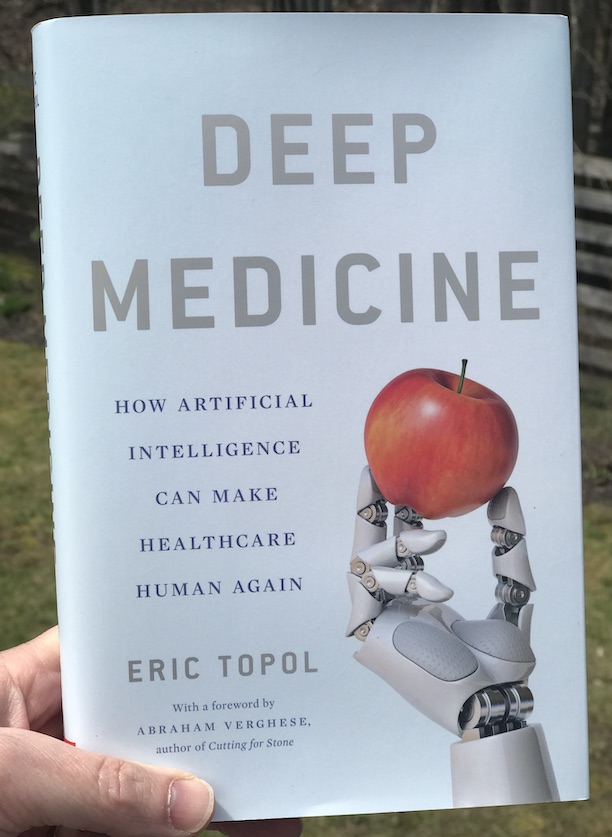 Two books featured prominently in the recommendations from speakers. Dr. Eric Topol's latest book Deep Medicine: How Artificial Intelligence can make healthcare human again. Dr. Topol's last book, The Patient Will See You Now, was among the 9 books that changed our thinking in 2019.
"What's wrong in healthcare today is that it's missing care. That is, we generally, as doctors, don't get to really care for patients enough. And patients don't feel they are cared for," writes Dr. Topol.
Dr. Deepak Kaura, Chief Medical Officer from Joule, eloquently tested our comprehension of innovation. He recommended the Out of Minds: The Power of Being Creative by Sir Ken Robinson, PhD. A 2017 third-edition is now available. 
Virtual care and mixed reality AI
"Virtual care connects. No matter where you are. No matter who you are."
Dr. Ed Brown from Ontario Telemedicine Network (OTN) articulated the Gap between what patients need and want and what providers are able and ready to provide. Both OTN and Joule emphasized their investment in virtual care to improve patient engagement and customer service.
The following four pillars were cited as necessary to enable healthcare professional clinically relevant health innovation.
Engaging the front-line in generating ideas, building their solutions and then implementing their solutions.
Giving innovators a place to build in a collaborative multi-disciplinary academic environment.
Creating test spaces that are accessible and useful.
Predefining commercialization/ technology transfer.
Dr. Yanick Beaulieu impressed the delegates with his video illustrations of mixed reality, using Reacts and association with Philips Lumify. Reacts is a digital platform that reinvents how we interact remotely to facilitate virtual collaboration.
Tara Coxon and Andriana Lukich spoke about the St. Joseph's Digital Health Experience. Among the digital solution tools are Dovetale, powered by EPIC and the patient reported outcomes they are producing. Boehringer Ingleheim's Jennifer Haddon painted a picture of how pharmaceutical companies are evolving in a digital age with a research focus on digital engagement and co-created content.
Dr. Kohli, Co-founder and CEO of CloudDX described the six Ds of exponential organizations. Digitized, Deceptive, Disruptive, Demonetized, Dematerialized, and Democratized. See the Singularity Hub for the detailed guide. Cardiologist and entrepreneur, Dr. Sunny Malhotra highlighted how ten years ago we were talking about EMR, and now we are absorbed by AI, machine learning and deep learning. There are already 500,000 health-related apps.
Veronika Litinski, CEO of PillCheck, described the pivotal role of the pharmacists as part of the multi-disciplinary healthcare team in genomics-guided medication management.
Diversity enriches the clinical relevance of health tech solutions
"Most ideas that matter to patients come from the front-line," contests Dr. Kaura
As many of you are aware, I am now leading aspects of Hacking Health, which is a grass-roots movement built upon the premise of co-design by a broad, diverse spectrum of passionate innovators. You can register on Eventbrite to join the Hacking Health dual-city hackathons in conjunction with True North. These take place in Waterloo and Ottawa May 31-June 2, 2019.
JOIN THE DUAL-CITY HACKATHON IN CONJUNCTION WITH TRUE NORTH
Congratulations to co-chairs Dr. Richard Tytus, Dr. Dennis DiValentino, the organizing team and sponsors on a successful inaugural #TFHC2019 physician-led health tech innovation conference. We look forward to 2020.