Businesses across the world have responded to the COVID-19 pandemic to pivot the businesses and address virtual codesign. Here we consider four examples from Ontario Health West.
By their nature, startup entrepreneurs are curious, impulsive personalities who can often feel focused and motivated in a crisis. In this post, we examine three startups/scale-ups in Waterloo Region and one in London, Ontario. They are O2 Canada, KA-Imaging, Curiato and 123Genetix.
O2 Canada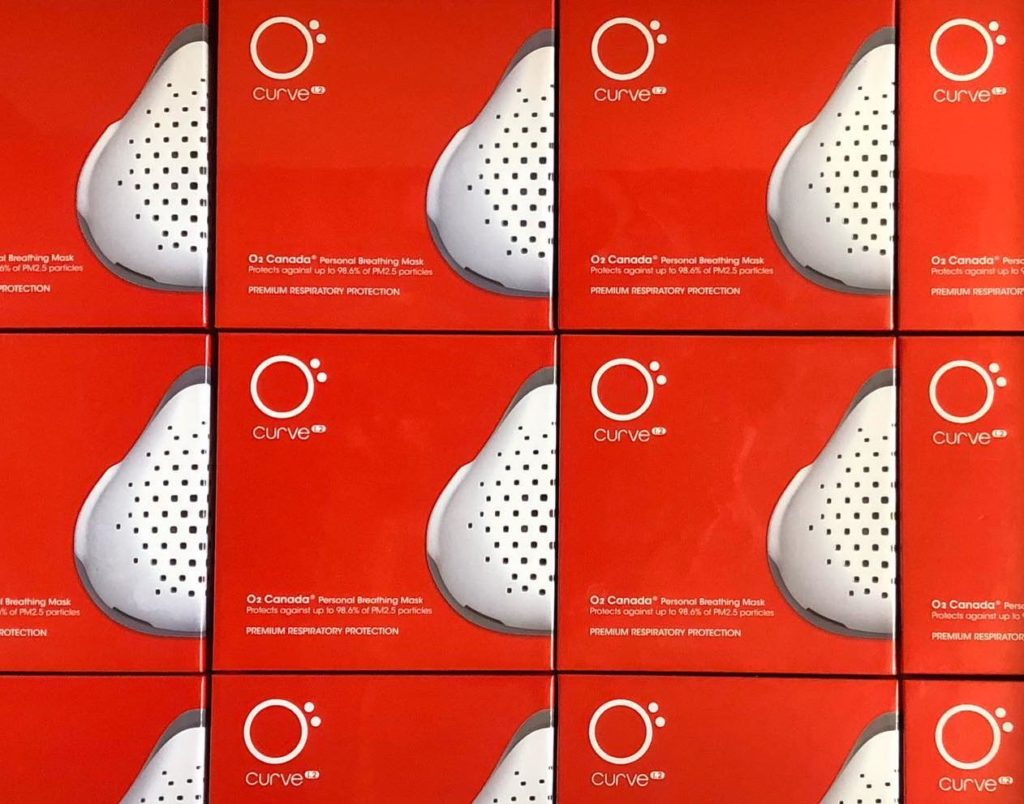 "O2 mobilized its entire team to double the capacity of masks produced. The team transitioned from selling masks to consumers, to focusing on getting masks to the frontline medical worker, remarks Peter Whitby, CEO of O2 Canada. "The mask was tested at St. Mary's and scored 100% on the FIT factor testing. Moreover, donations and masks provided to 13 hospitals in the province. Lastly, we innovated a 3D printed clip to accessorize the mask, allowing nurses and doctors to have a double filter and keep them safe while they scrub out. They never remove the mask."
Pre-COVID-19, O2 Canada (O2 Industries Inc.) was focussed on sales to consumers concerned by environmental pollution in Canada. As a manufacturer of Personal Protective Equipment (PPE), the team has more than doubled in size of the last month, with several senior positions recruited to expand the expertise and capability. They continue to recruit.
The pandemic has prompted the O2 team to engage with healthcare practitioners to understand how they currently use cheap disposable masks or N95 masks to protect themselves and patients. Demand for their masks has grown exponentially from air pollution to personal protection.
Rich Szasz explains how the company is codesigning alternative solutions to help health professionals seeking personal protective equipment.
KA Imaging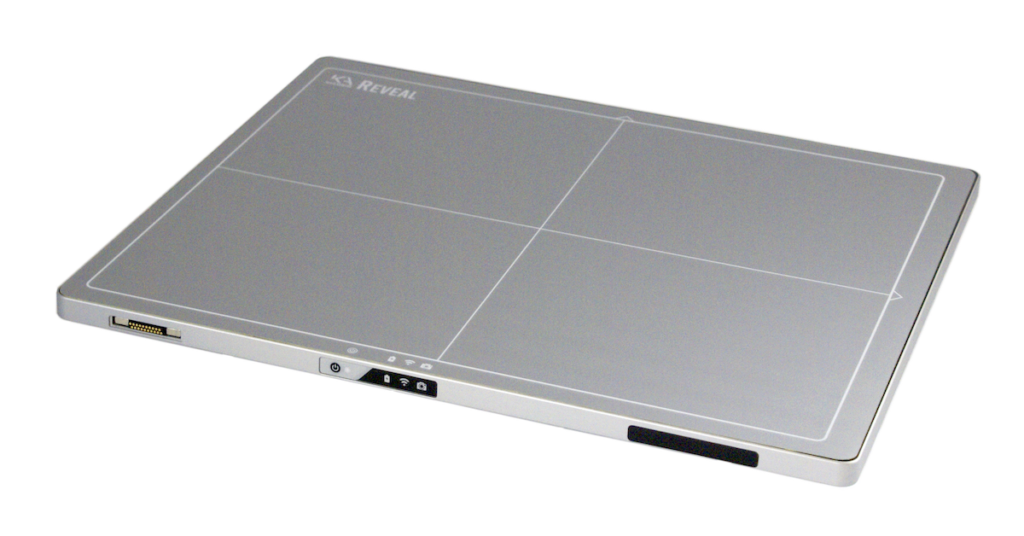 "KA Imaging's portable Reveal X-ray detector uses dual-energy subtraction radiography, a digital X-ray technique that is widely known for classifying lung nodules for diseases like lung cancer, pneumonia and tuberculosis. We are discussing clinical trials with hospitals in different countries to determine the efficacy of Reveal in triaging COVID-19. Reveal generates three images with a single shot, providing more details; in addition, it is portable and easy to sanitize. We are positive that our unique technology can be beneficial in such difficult times". Amol Karnick, President and CEO of KA Imaging.
ARVE Error: src mismatch
provider: youtube
url: https://www.youtube.com/watch?v=CTcq4eALLqI&t=4s
src in org: https://www.youtube-nocookie.com/embed/CTcq4eALLqI?start=4&feature=oembed
src in mod: https://www.youtube-nocookie.com/embed/CTcq4eALLqI?start=4
src gen org: https://www.youtube-nocookie.com/embed/CTcq4eALLqI


I first encountered KA Imaging when they presented at a Hacking Health Waterloo cafe held at the new Medical Innovation Xchange (MIX). It was already remarkable to understand the scale of this paradigm shift in X-ray detection, like going from black and white to colour photography, noted Dr. Karim.
KA Imaging was interviewed on NTV in Houston talking about how the Reveal imaging technology and how the company can help during the COVID-19 pandemic.
Curiato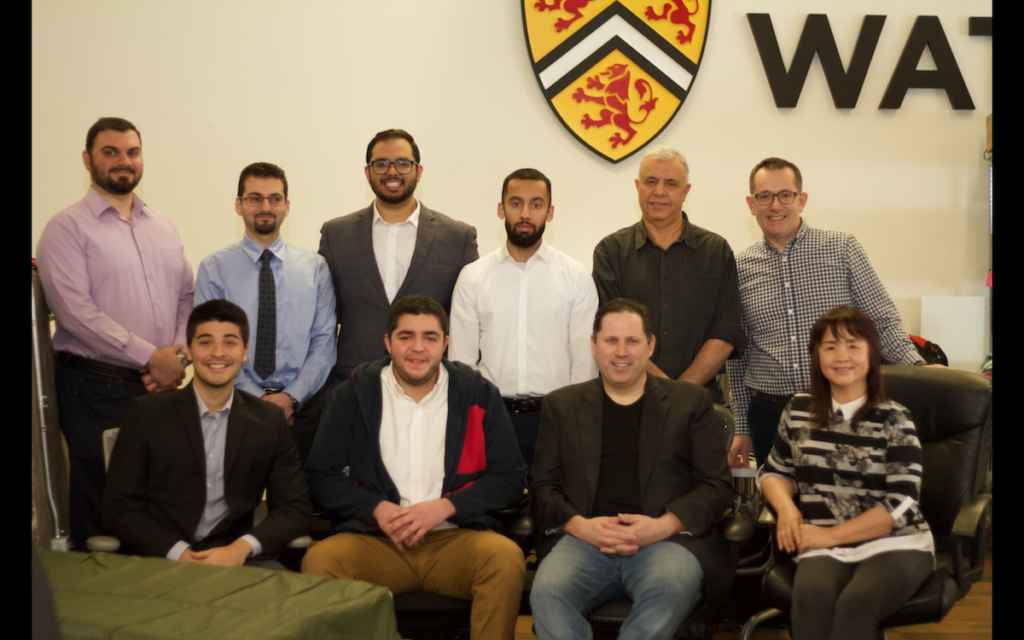 "Curiato believes there is an important place for patient monitoring technologies in any COVID-19 response. We are proposing to help clinicians monitor moderate-to-complex COVID-19 patients who are hospitalized but not in the ICU. This is the majority of patients receiving care in the hospital. About 20-30% of these patients will end up in ICU and having the ability to identify which patients need additional support could be especially useful in the context of managing a patient surge," describes Dean Sas, Chief Business & Financial Officer at Curiato. "To do this, we are working to adapt our clinically-validated smart surface monitoring platform for thermal stress, which the evidence indicates is a prognostic indicator for patient deterioration and is potentially relevant for serious infectious conditions such as COVID-19, influenza, and septicemia."
The Curiato platform could have the potential to help the healthcare system to care for COVID-19 patients by continuously assessing and informing the risk of patient deterioration. Importantly, this could reduce the frequency of direct bedside evaluations.
It is a substantial milestone to move static measurements from the lab setting in mannequins to continuous monitoring of patients. A 104-patient study had been completed at Toronto Grace Health Centre (TGHC) in 2019, and the results provide clinical evidence of three insights, including temperature, necessary for thermal stress monitoring. The TGHC research was accepted as an abstract for the Spring SAWC conference authored by Dr. Nicola Waters. The SAWC conference is now scheduled for Charlotte, North Carolina, in late July.
It is impressive to witness how the team has engaged clinical advisors and recruited new staff to bolster its technical competences and seek funding to research thermal stress. The company already has terabytes of data from the Toronto study to interrogate to determine whether the sensitivity of our sensors can guide healthcare professionals on patient signs related to thermal stress.
123Genetix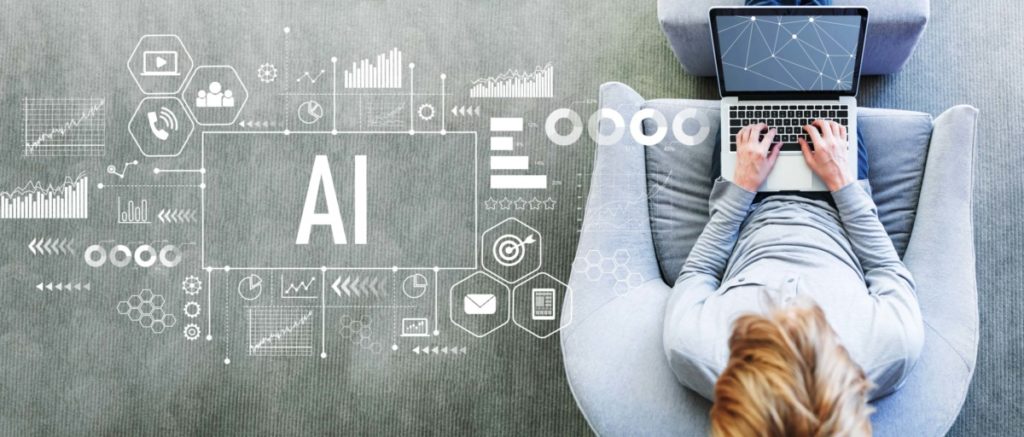 The highest science is being modelled by Dr. Wayne Danter of 123Genetix. The startup using computer modelling to look for potential drug candidates for rare diseases.
"Many people still don't believe that it's possible to create a simulation of a pluripotent stem cell in a computer. Well, we've done it. We've validated it. We have published and continuing to publish our results in peer-reviewed journals. Our validation is ongoing, and hopefully, this and other technologies will, in time, be viewed as any other accepted lab test with positive and negative predictive values. When a new in vitro test or animal model is developed, you don't often get them right the first time," Dr. Danter describes.
123Gentix has developed COVID-19 simulations by first differentiating artificial pluripotent stem cells (aiPSC) into artificial lung cells (aiLUNG), and then infecting those with simulated COVID virus. Dr. Danter then started looking at combinations of known drugs. We believe that drug combinations are a much more rational, intelligent, logical sort of approach than single drugs for most diseases. This has important implications for COVID-19 by identifying novel and effective combinations of known drugs. DeepNEU is the big data simulation solution specifically engineered to empower drug discovery researchers as well as those working in rare diseases.
CODE: NOW
The renowned regional incubator center in Kitchener-Waterloo, Communitech has provided instrumental as a connector in the Region. It quickly rolled out the CODE: NOW series, seeking to engage the business community in virtual codesign solutions for the health system.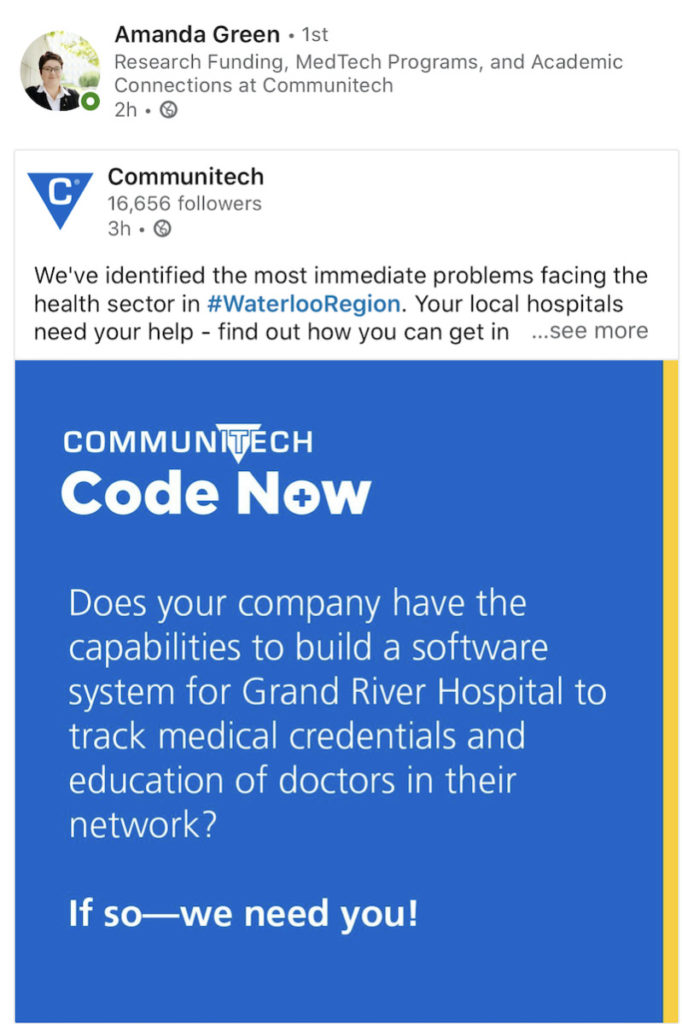 Hacking Health Waterloo is also endeavouring to support CODE Now. In April we listened to the region's health leaders.
The response of the health tech community to the pandemic demonstrates many of the best things about entrepreneurship and our communities. Communication is crucial in a crisis; what has been different in this scenario is that this codesign has been done virtually over the digital workplaces and video conferencing tools.
The response epitomizes Tech for Good, and we encourage to sign up to support the Tech for Good Declaration.
---
Opencity Inc. thinks giving a spotlight to charities is important and one way we can be socially responsible.