"It's time we built an integrated medtech incubator in this community, it would solve many of the problems we have heard about," stated panellist Murray Gamble at the conclusion of the 2018 Waterloo MedTech conference.
Here we preview the 2019 conference on Building a Successful Medtech Infrastructure that tries to mobilize that call to action. We just need the will to make it happen in Waterloo Region. Watch the video interviews below to learn how this could be a worthwhile investment of your time to attend on October 2.
A Waterloo health tech hub
The October 2 conference features a distinguished array of speakers from North America, including MIT, Johns Hopkins, St Mike's, MEDTEQ and Rotman School of Management from outside the region.
REGISTER TODAY FOR THE OCTOBER 2 CONFERENCE
"I highly suspect that by the time you leave our community, you will have gained a better understanding of how Waterloo Region's strong economy continues to outperform other innovation regions and why we are home to a top 20 global technology cluster that is responsible for generating 17% of Canada's GDP," notes Chair Redman.
The 2018 conference identified three roadblocks that are holding us back.
Murray Gamble, President of The C3 Group of Companies, called for the Waterloo Region community to come together to create an incubator specifically for medical technology, life sciences, and healthcare start-ups. Resources dedicated to this group would address the unique challenges they face in bringing their innovations to market.
Several speakers, including Armen Bakirztian, CEO and Co-founder of Intellijoint Surgical, and Neil Fraser, President of Medtronic Canada, indicated that healthcare companies need to engage with the government to drive forward the proposed actions put forward by the Economic Strategy Table: Health/ Bio-sciences.
Mentors and key influencers need to act on the lessons learned from start-up to scale-up failures and successes. This will foster successful growth amongst Canadian top medtech start-ups. This includes those featured in the Conference's Innovation and Start-Up Showcase.
VIEW THE OCTOBER 2 AGENDA HERE
What's holding us back?
This fourth Waterloo MedTech conference builds on each of those before. If you need convincing, then read the proceedings from last year's conference titled Canadian MedTech: What's Holding us Back?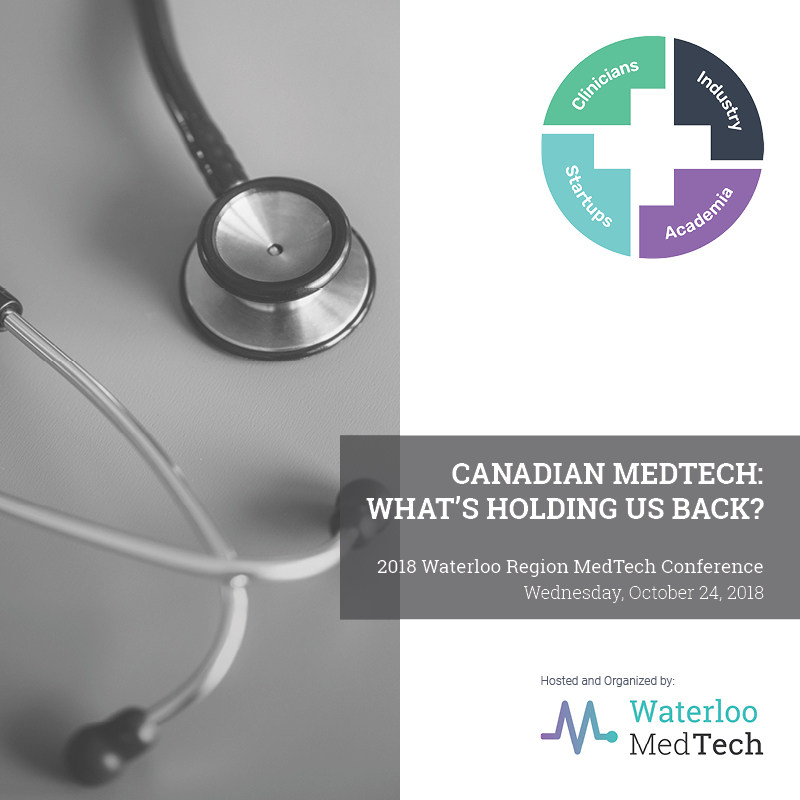 "In Waterloo, we have our outstanding technological ecosystem and incubators with proven success, our outstanding postgraduate institutions, the Perimeter Institute, our nanotechnology centre, and the latest winner of the Nobel prize in physics, Dr. Donna Strickland from the University of Waterloo. We need to find a way to come together to make this happen because if we don't, the outcome for our health system and our economy is unthinkable," remarked Dr. Doug Dittmer, Physical Medicine and Rehabilitation Physician.
Innovation Showcase
The conference includes expert panels on Creating the Conditions for a MedTech Scale-Up Ecosystem and Lessons from those who have done it – The Secret Sauce to Build a MedTech Infrastructure. Again, the conference features the Waterloo MedTech 2019 Awards. Last year's winners were Agfa Healthcare and Intellijoint Surgical. Innovation Showcase includes these six Top Entrepreneurs and Scale-Ups:
AHead Simulations Inc.
ClearVoxel Imaging Inc.
Cohesys Inc.
Enabling Adaptations Inc.
NURO Corporation
Stabilo Medical Inc.
REGISTER TODAY FOR THE OCTOBER 2 CONFERENCE
We encourage you to subscribe to the Waterloo MedTech YouTube Channel here so you can keep up with our speaker video interviews.
5 Reasons to attend the Waterloo MedTech conference
Learn from Canadian and international experts on how to build a successful MedTech infrastructure. 
Listen to authorities on how to effectively support MedTech to grow this critical sector in Canada. 
Hear about the 2019 six Top MedTech start-ups and entrepreneurs in the exciting Innovation Showcase.
Visit the exhibit area with companies and organizations representing all areas of medical technology. 
Meet 200 key stakeholders from health care, industry, government, academia and the start-up community.
Images courtesy of Waterloo MedTech