The debridement of wounds has been a mainstay of management for centuries, yet debridement recommendations for nurses in Canada have not been standardized until now.
In this case study, we explore the development and launch of these debridement best practice recommendations by Nurses Specialized in Wound, Ostomy and Continence Canada, together with an accompanying position statement on nurses and debridement.
TIME for debridement recommendations
Debridement has been a mainstay of wound management for centuries and a core intervention described by the acronym T.I.M.E. as part of the wound bed preparation concept. Nevertheless, there was a lack of recommendations for professionals in Canada. The literature synthesis emphasized the inconsistent use of definitions as well as the incomplete information of the scope of practice requirements.
"The primary objective for the development of Debridement: Canadian Best Practice Recommendations for Nurses was to provide Canadian nurses with evidence-informed practice recommendations for all methods of wound debridement with the ultimate goal to facilitate optimal clinical practice and patient safety across the continuum of health care. The 12 recommendations describe the specialized knowledge, skills, competencies and legal considerations required for nurses to initiate, direct, and perform all methods of debridement safely. The intention is for these recommendations to be incorporated into clinical practice by nurses, organizations and various levels of government to define debridement policies and legislative regulations."

NSWOCC Research and Practice Core Program Chair, Nancy Parslow, MCISc-WH, RN, NSWOC, WOCC(C)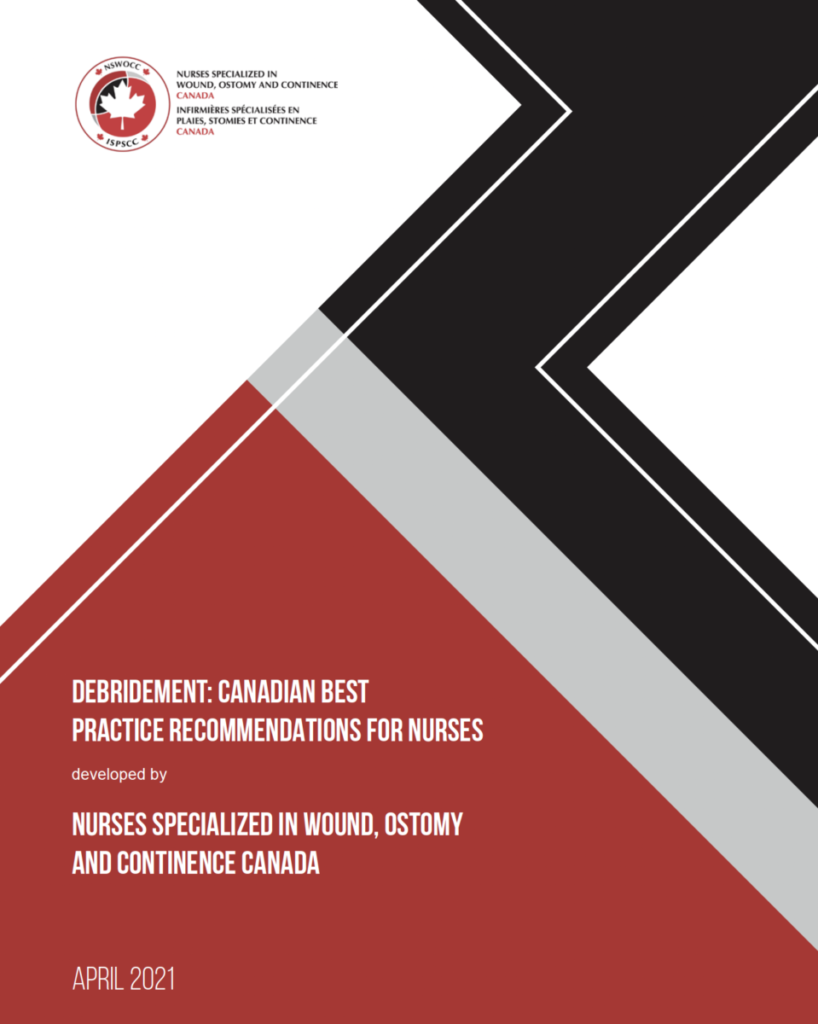 Download the Canadian Debridement Recommendations here
The document is divided into four principal sections.
Section 1 – The 12 best practice recommendations with rationale – you can view Appendix 2 with an abridged version of those 12 recommendations here.
Section 2 – Modalities of debridement (autolytic, mechanical, enzymatic, biological, conservative sharp wound debridement [CSWD], and surgical) – each begins with a formal definition and includes practice tips. Table 5 provides a concise summary of the indications, contraindications, advantages, disadvantages and special considerations of the modalities.
Section 3 – Scope of Practice – explores the categories of nurse across Canada and also notes the role of other members of the interprofessional team, plus CSWD in the community setting.
Section 4 – Next steps beyond these debridement best practice recommendations.
Debridement position statement
To accompany the complete 88-page debridement best practice recommendations, a smaller working group also helped articulate a two-page position statement. The debridement recommendations were supplemented by a position statement summarizing nursing requirements regarding different modalities of debridement, with a special emphasis on conservative sharp wound debridement.
"[NSWOCC] acknowledges that all forms of debridement have a high level of clinical risk resulting in potential patient harm and complications. Specialized knowledge, skills, and critical-thinking abilities are foundational for the development of competency required to initiate and perform safe and effective debridement.

NSWOCC believes that nurses assume clinical leadership roles which make a significant contribution to the health of Canadians suffering from wounds. A registered nurse who initiates debridement and the registered nurse, nurse practitioner, licensed practical nurse, registered practical nurse who performs debridement, as defined by their scope of practice, contribute to improved patient safety and enhanced clinical outcomes.

NSWOCC believes employers who recognize nurses with the advanced knowledge, skills, and judgment to competently and safely initiate, direct, and perform debridement contribute to improving wound healing rates, reducing health system costs, and reducing patient harm."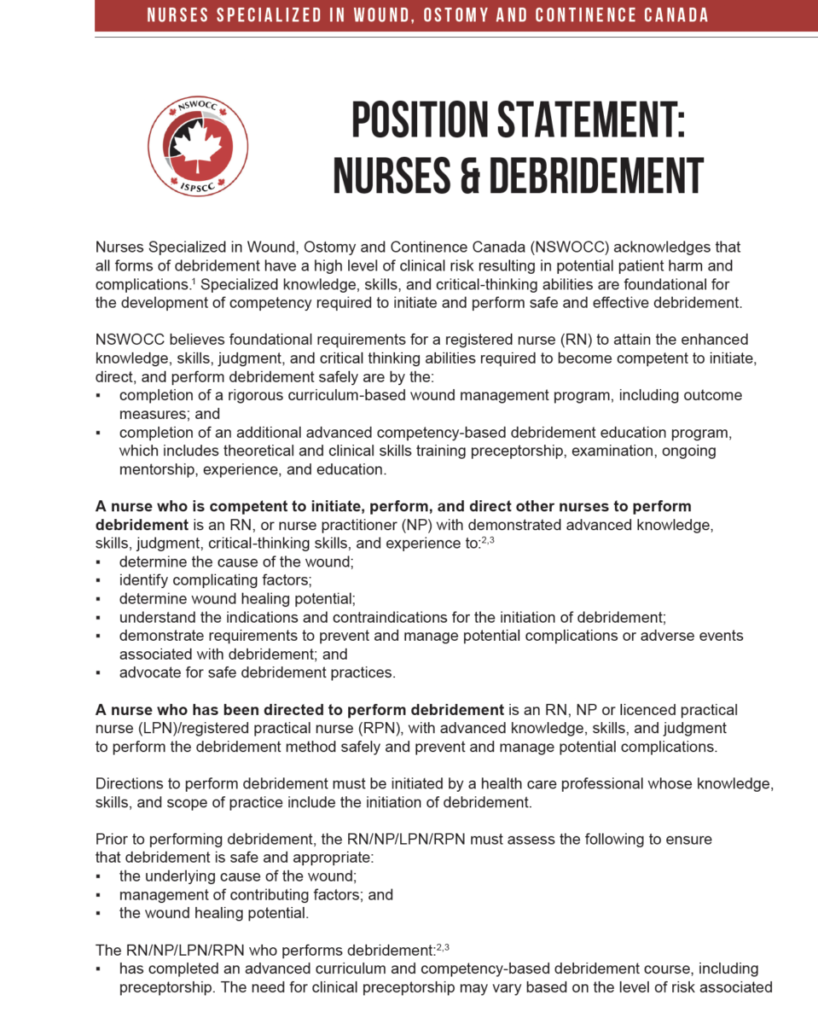 Download the debridement position statement
Scoping review and Delphi process methodology
We place great emphasis on examing how our approaches to each project can be refined and how learnings from one project can be applied elsewhere. There were many aspects of this project that incorporated additional or new components. Here are seven highlights.
Define the process methodology at the start. A scoping review methodology was employed based on the work of Arksey and O'Malley (2005). It is essential to determine whether you are defining a new list of recommendations and using a Delphi process to confirm an agreed level of consensus. The 12 recommendation statements exceeded over 80% agreement, exceeding the 70% bar set.
A sub-group of two individuals appraised the level of evidence supporting the best practice recommendations, according to the Registered Nurses' Association of Ontario (RNAO) Interpretation of Evidence from 2016.
Divide up the facilitation of the project based on comfort zones, for example, who is most comfortable with moderating Zoom calls.
This document production required obtaining copyright permission from several journals or authors for the reproduction of their work. There is a cost to this and can take up to four-weeks. Hwoever, don't start to early in case you don't include them all in the final document.
Attention was paid to the glossary of terms. Abbreviations appearing more than once in the document were included in the glossary. And consistent with APA, the glossary and abbreviations are only capitalized if they are proper nouns. A shared Google Doc was used to assist in the formatting of the 117 references using the agreed Vancouver style.
Improvements were made to the efficiency of the peer review process gained from parallel work on the Operating Room Nurses Association of Canada (ORNAC) Standards 15th edition. Input was received from 38 peer reviewers. Overall, 89% of the reviewers would recommend to colleagues and administrators direct debridement practices for nursing professionals in all care settings in Canada.
The debridement recommendation document hyperlink to the position paper and the position statement hyperlinks to the best practice recommendations. Work on other projects has shown this can increase the downloads of the full document. That was a little fiddly to get the URLs right so that they two documents opended as planned.
Download the Canadian Debridement Recommendations here
"John Gregory's expertise, resourcefulness and creativity provided instrumental guidance for the work of the task force throughout the BPR development process and towards the successful completion by the scheduled deadline."

Nancy Parslow
It was again a pleasure working with this twenty-one person NSWOCC task force. The recommendations were launched by the cochairs, Nancy Parslow and Dr. Kevin Woo at the NSWOCC virtual conference in May 2021. Thanks again to Natasha Wilson for the document production and Wajma Attayi for help with the synthesis. A manuscript is pending publication in a forthcoming peer-reviewed journal. Prompted by the inconsistencies and need for preceptorship, the WOC Institute opens registration for a new Advanced Wound Debridement Course in October with a first cohort in January 2022. Course participants will be self-director to arrange appropriate preceptorship.
We are currently working with the Canadian Urological Association, Urology Nurses of Canada and NSWOCC on a urinary diversion position statement. In addition to another best practice recommendation on paediatric incontinence-associated dermatitis. Expect to see these published in early 2022.
The term wound bed preparation (WBP) first appeared in the literature twenty years ago. Drs Gary Sibbald, Vincent Falanga, Keith Harding, Marco Romanelli, and others were among those early pioneers. It made my career, and Opencity Inc is inextricably linked to that project. On behalf of Smith & Nephew, I engaged Roland Renyi of Opencity Limited to work with me on that wound bed preparation international advisory board and the cascade of publications that arose. Revisiting the WBP concept and T.I.M.E. paradigm motivates me to chronicle where the members are now.
---
Opencity Inc. thinks giving a spotlight to charities is important and one way we can be socially responsible.