A landmark step to see the pioneering new Medical Innovation Xchange (MIX) open in Waterloo Region.
"There are inherent advantages of Canada's entrepreneurial environment for medtech start-ups, but unfortunately, resources deplete at a shocking rate when those companies begin to scale," described Intellijoint Surgical's Rebecca MacIntyre in introducing the MIX roundtable discussion.
MIX Roundtable
The roundtable which kicked off the MIX opening examined the question, "What infrastructure is required to help retain and successfully scale Canadian medtech startups?" Adrien Côté from Velocity moderated it. Hear what he said in the above video.
Intellijoint Surgical graduated from The Accelerator Centre. The three MIX residents, Bloom, Penta Medical and Vena Medical, were founded by local graduates. The next cohort of residents will benefit from their experience. So before we delve too deep into the MIX opening, first, let's understand why there is a need for the Medical Innovation Xchange and why it is such a poignant step. Waterloo Region is blessed with an ecosystem to start an entrepreneurial journey. They include St Paul's Greenhouse, Concept by Velocity, Velocity Incubator, Communitech and The Accelerator Centre. The region is noted for its strong co-op programs. Against this backdrop, Canada is a wonderful place to start a business yet a problematic environment to scale to commercialize international markets. Indeed for many Canadian health tech companies, their customers are often beyond their domestic borders. No wonder we see a migration of talent south or early acquisitions. The Waterloo – Toronto corridor needs to retain talent and see medtech startups scale. The tide is turning, and so the timing of MIX is particularly pertinent.
Deputy Minister of Innovation, Science and Economic Development, Simon Kennedy, provided the keynote remarks in addition to contenting to the panel. "Initiatives such as the Medical Innovation Xchange can play a really important role in nurturing our best new medical innovators to bring new ideas to market. There are things government can do, but the mentorship, the kind of demonstration, the camaraderie, the learning that can take place in organizations like MIX is really essential. And I just want to congratulate Armen, Kaitlin and their colleagues for their foresight in establishing this facility. It was a real privilege to be invited to participate today. This has been a labour of love for Armen, for you and your colleagues. And, you know, I think it represents the best of our entrepreneurs in this country that they're not only trying to. Build businesses to provide for themselves and their family. They're also trying to build a better country. So congratulations on today's opening. I look forward to working with everyone in this room and making the changes we want to see for our future, including in health care, to continue to innovate, drive, change and push the limits of what we can accomplish together."
MIX Grand Opening certificate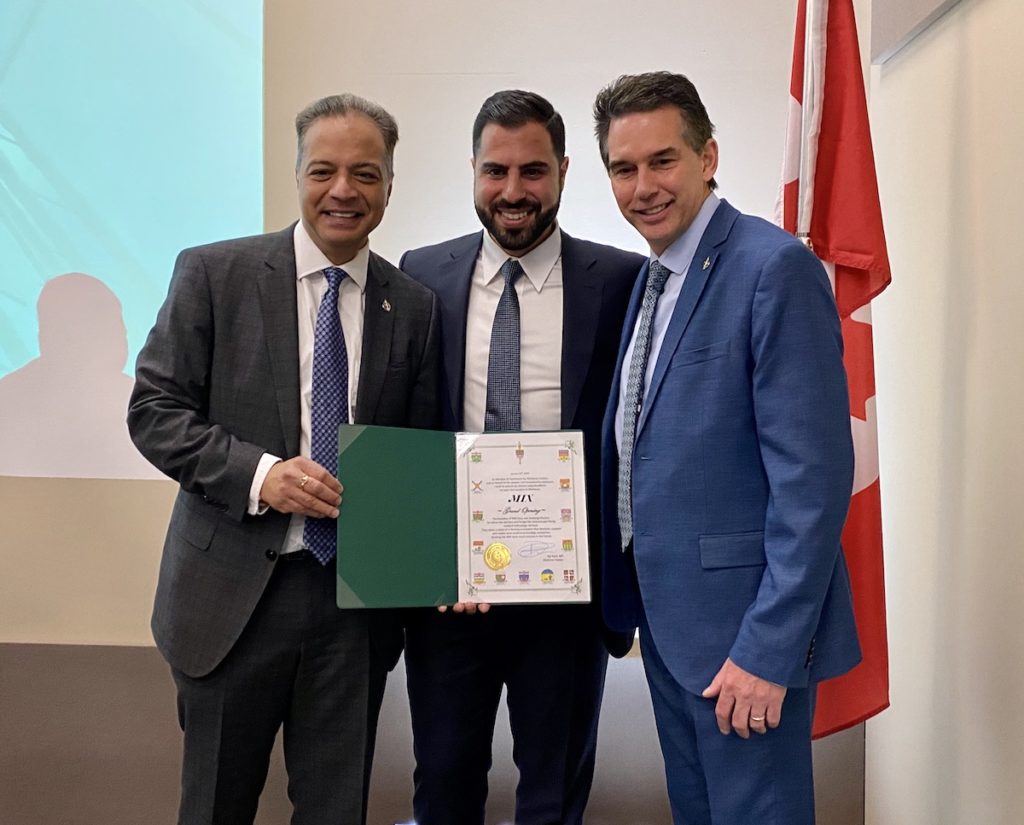 The certificate presented by the City of Kitchener to MIX reads;
"The Council and citizens of the City of Kitchener extend congratulations to MIX on the occasion of your grand opening celebrating this date. Congratulations, as you celebrate your new space to house the first of its kind in Canada's first medical incubator hub. We recognize MIX as being a leader and forerunner in its mandate and wish every success for years to come."
Watch the full 28-minute opening ceremony video here.
Mayor Vrbanovic has been a staunch advocate for innovation in the City of Kitchener. He pointed to parallel about the future of health care in our community and this whole notion of hospital care and what that should look like.
"Should we have a teaching hospital ultimately in the long run in the community? And one of the things that's really being thrown around and talked about is do we really need a teaching hospital? In fact, what this community is known for is innovation and a different approach to things. And in fact, the future of health care and innovation in health care will come by not doing more of the same, but actually doing things differently," explained Mayor Vrbanovic. "If there's any place in the country where we're at that can be done differently. It's right here in Waterloo Region."
Talent in Waterloo Region
A recurring theme through the roundtable and opening ceremony is cultivating the right talent.
"Talent is a requirement to build a business and given in Canada, our ecosystem is relatively young when it comes to medtech, it's actually quite difficult to have access to the right talent and that becomes even more pronounced as you grow into a commercial company," remarks Bakirtzian.
"The purpose of this space is to have a natural collision space where companies and individuals can learn from each other because it is a unique skill set to commercialize a medical technology. It's different than what it takes to do the research and development. And it's really the domestic companies that have a whole range of skills. Foreign multinationals that are in Canada take a foreign designed and developed a product. They get it approved in Canada, and they sell it in Canada. Our companies do all of the design and development in Canada and sell outside of Canada. The skillset is almost mutually exclusive. We need to focus on growing our domestic companies so we can build up that skillset so we can have more successful commercial and tech companies in Canada."
Building relationships early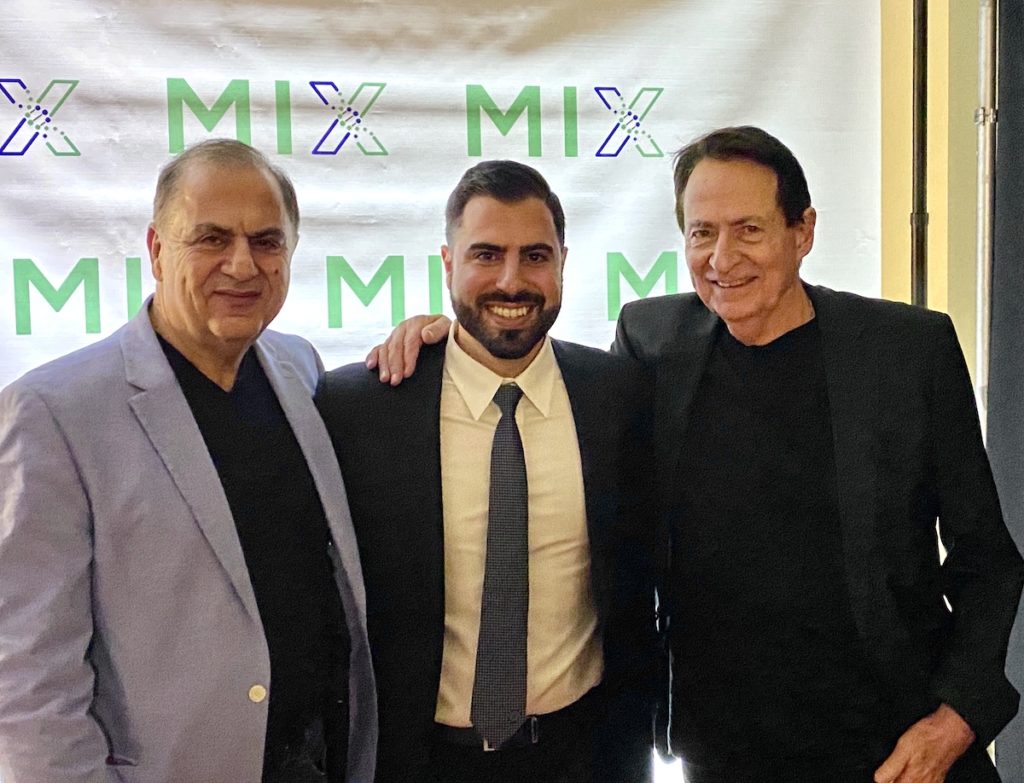 Bakitzian repeatedly highlighted the need to access investors, clinicians, and customers early in the start-up phase. In the case of Intellijoint Surgical, each has become strong advocates for what the company is doing and underpins its success with four thousand Injellijoint HIP guided surgeries in 2019.
"One of the big takeaways for me in my experience over the last 10 years is that companies need time to build and institutional investors can limit that time, which might force an exit early because they need to provide a term return for their own investors," noted Bakirtzian. He continued, "Filing IP early is extremely important. And building the competency internally within your team to file patents is extremely important. I think a lot of folks will just go out and meet an IP lawyer and let them run the show for them. But without having the core competency internally within the company, I think it's very difficult to file an effective IP strategy. And again, that's something that we're trying to build here because over the last ten years, we've built a lot of knowledge internally on how to file patents and have a good IP strategy. And that's something we feel at MIX is part of our value is that we can help the younger companies really understand what IP strategy is and how they can protect themselves today and into the future as well."
We would not wish to diminish the contribution of the esteemed panel, who all had a University Waterloo link except for Simon Kennedy. That said, Bakirtzian eloquently hit on so many points that provide exceptional insight for scale-ups in the region. The next cohort of residents at MIX will benefit from some profound expertise in go-to-market strategy.
"Being successful in the U.S. is essential to any medical device company. Maybe more so as a Canadian medical device company, which might sound a little weird, said Bakirtzian. I think it's important to meet U.S. clinicians early. The first surgeon we met is in the room is Dr. Alan Gross. He was able to introduce us and connect us with his colleagues in the U.S. who are thought leaders and hip replacement surgery. Meet your investors early, meet your customers early as well and use them to help guide your product development. It was important for us to engage them early, engaging them as designers of our product, engage them as investors and into our company as well. And, years later when the product was available, of course, you have your champions there ready to adopt your products south of the border."
Applications for MIX Residency are now open
"I am inspired by what I see happening to support Medtech companies in our region," noted Mary Pat Hinton, co-founder of Emmetros on Twitter.
Read our white paper on Health Outcome Models for medtech companies
---
Opencity Inc. thinks giving a spotlight to charities is important and one way we can be socially responsible.