Vision loss doesn't have to mean the loss of independence or quality of life. With the right support, people who are blind or partially sighted can do almost anything.
CNIB began as the Canadian National Institute for the Blind 100 years ago. Here we examine their ethos of seeing beyond vision loss, note how technology has evolved from Braille to the latest tech and how you could also be a CNIB Vision Mate.
CNIB – Seeing beyond vision loss
"We've come a long way in our first 100 years of changing lives, but much more needs to be done. As we step into our second century, we're revolutionizing our programming for the people we serve," introduces Angela Bonfanti, VP Foundation (Ontario & Quebec) CNIB. "Through our newly launched Foundation, CNIB is providing a wide range of fantastic new programs that are community-based, dynamic and accessible. From teaching our participants how to unleash the power of technology – to make sure children and parents have the best school experience possible, these vital programs address the social and emotional needs of people living with sight loss."
Every 12 minutes, someone in Canada begins to lose their eyesight. But did you know that 75 percent of vision loss can be prevented? CNIB offers valuable tips to help you protect your eyes from injury, prevent vision loss before it starts, or treat vision loss that may have already begun.
Braille to eSight
Frenchman Louise Braille experimented with the system that took his name in 1824. Our featured image shows Elizabeth Rusk teaching Braille to Edna Sharp in 1934. The boundaries of health innovation have continued. We were mesmerized listening to Yvonne Felix speaking at the Medtech Conference, sponsored by MEDEC about her life journey living with Stargardt disease and the way in which technology, like eSight, is helping her see again. The video below inspired this feature. The Toronto technology company eSight was voted by TIME as one of the 25 best inventions of 2017 and winner of Techvibes award for Breakthrough Technology in 2018.
CNIB Community Hub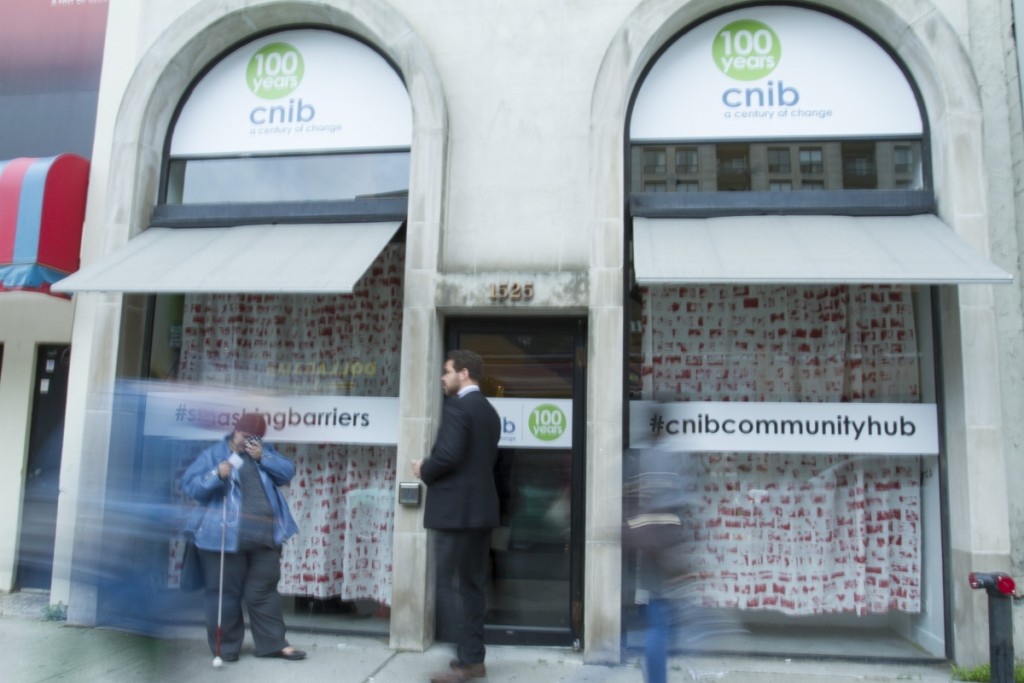 The Community Hub in Toronto pictured is 1525 Yonge Street. Come and explore this hub for yourself or the many others like it.
"The next century will be about continuing to drive change for blind or partially sighted Canadians living by increasing access to employment, advocating for a more inclusive and accessible country and moving the bar on societal inequities and stigmas surrounding blindness. But we can't do this alone; we need your help. Visit CNIB to find out how you can get involved. Together, we can change what it is to be blind today," adds Bonfanti.
There are a plethora of ways that you can volunteer and support. Read how Alexa is giving her time as a volunteer CNIB Vision Mate.
"The staff at CNIB matched me with a client based on my interests, what services I am comfortable providing, and how often I am able to provide them," describes Alexa. "This commitment is very flexible, permitting me to schedule meetings with my client to fit both of our dynamic schedules. Additionally, CNIB encourages open communication to ensure that both the Vision Mate and client are happy and comfortable with their arrangement."
Listen to our new Charity Spotlight podcast
Opencity Inc. thinks giving a spotlight to charities is important and one way we can be socially responsible. You can now listen to the Charity Spotlight podcasts on iTunes here. We encourage you to leave an honest review of the podcast episode. It will help us spread the word and help guide our future episodes.
LISTEN TO THE CHARITY SPOTLIGHT PODCAST
Images reproduced with kind permission of CNIB.