Bowel cancer does not discriminate; claiming the lives of 84 people each week in Australia. For Australians aged 25–29, bowel cancer is the most common cause of cancer death.
Here we explore the work of Bowel Cancer Australia, awarded the NGO of the Year in the 2017 Prime Awards. Providing well-coordinated cancer care, in Australia, can be a complex task due to an often fragmented health care system. It necessitates treatment and supportive-care services in hospital and community settings, across public and private sectors. Each year, over fifteen thousand Australians are diagnosed with the disease, two thousand of whom are under the age of 55.
Championing What Matters Most – Bowel Cancer Australia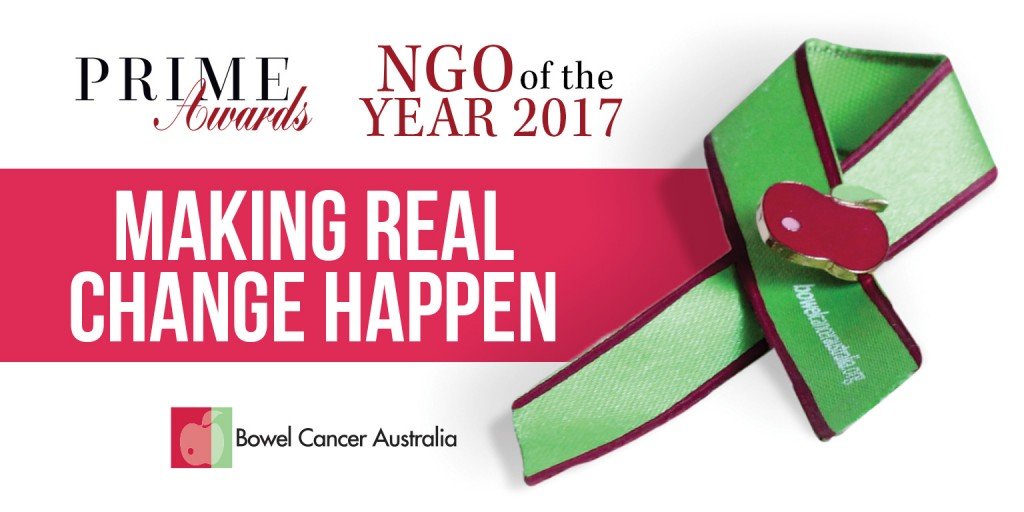 "Recognition as NGO of the Year is a testament to the consistently high standard of work and services provided by Bowel Cancer Australia and the charity's sincere commitment to championing what matters most to people affected by bowel cancer, across the continuum of care."
We have been inspired by learning about the work of Bowel Cancer Australia, which is a national charity working across the continuum of care. Bowel cancer is Australia's second deadliest cancer after lung cancer affecting 55% of men and 45% of women irrespective of ages. Their work is dedicated to the prevention, early diagnosis, research, quality treatment and the best care for everyone affected by bowel cancer.
"Many patients must undergo a series of investigations before finally receiving a definitive diagnosis at which time they are faced with life-changing decisions about their treatment and future," said Bowel Cancer Australia CEO Julien Wiggins. "Bowel cancer patients and their families are left to deal with a new normal and face a range of issues. These can include bowel and urinary problems, sexual dysfunction, depression, dietary issues, and permanent colostomy.
Poorly coordinated care has been associated with duplication of services, increased health care costs, decreased patient engagement, and lower satisfaction. Care coordination is recognised as an essential feature of high-quality person-centred cancer care and critical to ensuring optimal patient outcomes. Only 29% of people diagnosed with bowel cancer had seen a cancer care coordinator able to provide this type of support.
Bowel Care Nurses
Bowel Cancer Australia is supporting the growing community of people living with and beyond bowel cancer with the country's only Bowel Care Nurse Service.
"Our vision is to have an everlasting impact where no Australian dies from bowel cancer and all those diagnosed receive the support they need," Mr Wiggins said.
Bowel Care Nurses provide an ongoing point of contact and help patients with access to services in hospitals and the community. These include support groups such as Bowel Cancer Australia's Peer-to-Peer Support Network, a lifeline by patients and their families.
"The pathway of a bowel cancer patient is often stressful and challenging, resulting in feelings of fear and anxiety," said Fiona, a Bowel Care Nurse at Bowel Cancer Australia.
The specialist nurses also provide patients and family members with information about diagnosis, treatment plans and how to deal with the effects of treatment, living with or beyond bowel cancer.
As a 100% community-funded non-government organisation, Bowel Cancer Australia engages five Bowel Care Nurses – four who operate on a telehealth model and another one who is integrated into a hospital-based model. They also employ a Bowel Care Nutritionist who also works on a telehealth model, fulfilling critical unmet needs.
EXPLORE BOWEL CANCER AUSTRALIA
A Bowel Care Nurse is a registered nurse who has specialist knowledge and experience with caring for patients with colon and rectal cancers. They are a patient's constant point of contact during cancer treatment, providing support to the patient and their family. They can meet with patients, in-person or talk over the phone and are available from the time a patient receives their bowel cancer diagnosis. They assist the patient as they navigate feelings of stress, worry, fear and anxiety. The Bowel Care Nurse supports and communicates with the patient throughout their care, explaining the diagnosis and the treatment options, helping patients feel in control, leading to greater understanding and participation in treatment plans.
Accredited online educational modules
Bowel Cancer Australia also offers Australian College of Nursing (ACN) accredited online educational modules, which focus on the supportive care of bowel cancer patients and include strategies for improving quality of life. The free program provides nurses with an overview of bowel cancer and investigates the primary physical, psychological, social and emotional issues relevant to bowel cancer patients.
Collaboratively with funding partners, Bowel Cancer Australia has committed $11.3 million to bowel cancer research, including $10.4 million for the Lawrence Penn Chair of Bowel Cancer Research. A recent report by Bernard Salt reveals by 2026 more than eight million Australians will develop colorectal cancer.
The charity runs four core awareness and fundraising campaigns each year, focusing on raising awareness and funds to help beat bowel cancer, and continues to champion what matters most to patients through its advocacy efforts which include the following:
expansion of the National Screening Program to comply with medical guidelines;
timely access to colonoscopy and surgery;
the collection and reporting of patient-report outcomes to improve care;
national implementation of Bowel Care Nurses within the hospital setting to provide a consistent point of contact for patients and help them navigate their healthcare journey;
increased funding for research relative to the burden of disease;
better availability of affordable treatments, including biomarker testing and precision medicines.
I remember my father's struggle with bowel cancer when I was a child living in the UK. Now, as an adult with a family history, regular colonoscopy screening is an essential aspect of my life. It is captivating to witness the patient-centred approach that these Bowel Care Nurses bring to the lives of patients now.
The Bowel Cancer Australia website provides a wealth of information and engaging social media sites that encompass Facebook, Twitter, YouTube and Instagram. We encourage you to click on these accounts, to follow each and share with others. There is much that other charities around the World can learn from their exemplary work.
Opencity Inc. thinks giving a spotlight to charities is important and one way we can be socially responsible.
Images reproduced with kind permission of Bowel Cancer Australia.