In this Remembrance week it seems appropriate to recognize those also affected by conflict. Soup for Syria was profiled in Waitrose weekend edition (5.11.2015) and is a great example of Corporate Social Responsibility.
I am certain everyone of us is moved by the scale of the humanitarian crises pouring out of Syria and into Europe. I can hardly comprehend the desperation of a person, maybe with children in tow, arriving at a border crossing into a European nation.
The Soup for Syria campaign idea has touched me. Although not an actual charity it is a social cause. According to the website, Interlink Publishing Group will donate profits from the book project to the UN Refugee Agency UNHCR to provide urgently needed food relief for Syrian refugees. It also strikes a cord for me in that one of the prime fundraising events we have done in our local community for the homeless called Empty Bowls. A similar idea of gourmet soup and great recipes from professional chefs to raise awareness and aid.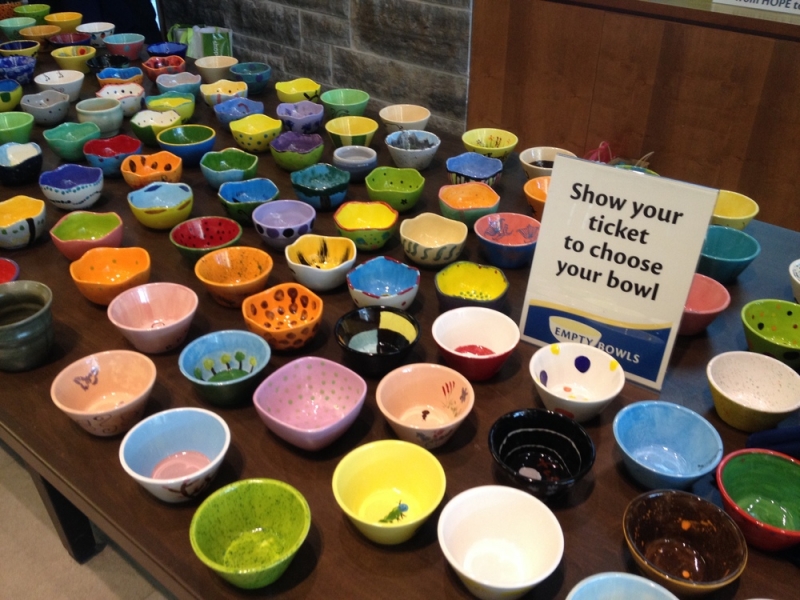 Our Empty Bowls idea with gourmet soup and bowl supporting those at risk of homelessness
I for one will order a copy of Soup for Syria and I encourage you to do likewise. Thank you Waitrose for your part in social responsibility in bringing this to our attention. Congratulations to Barbara Abdemi Massaad and all the contributors for your passion supporting those in need.
Visit the Soup for Syria website to learn more about the project or to order a copy. 
Note the publisher varies from country to country. Google Soup for Syria to find out how to order it locally. 
Opencity Inc. think giving a spotlight to charities is important and one way we can be socially responsible.