2017 represents a new milestone for Sleeping Children Around the World. 60,000 bedkits will be delivered bringing the total number of bedkits distributed since 1970 to over 1.5 million in 34 countries.
Chair, Dave Dryden, announced that in the past 4 months SCAW has given bedkits to 40,000 children.
"That's an average of 330 children a day, with 50 of our volunteers [who] have paid their own way to go overseas to India, Kenya, the Philippines and Togo."
9th Annual Pinehurst Club Breakfast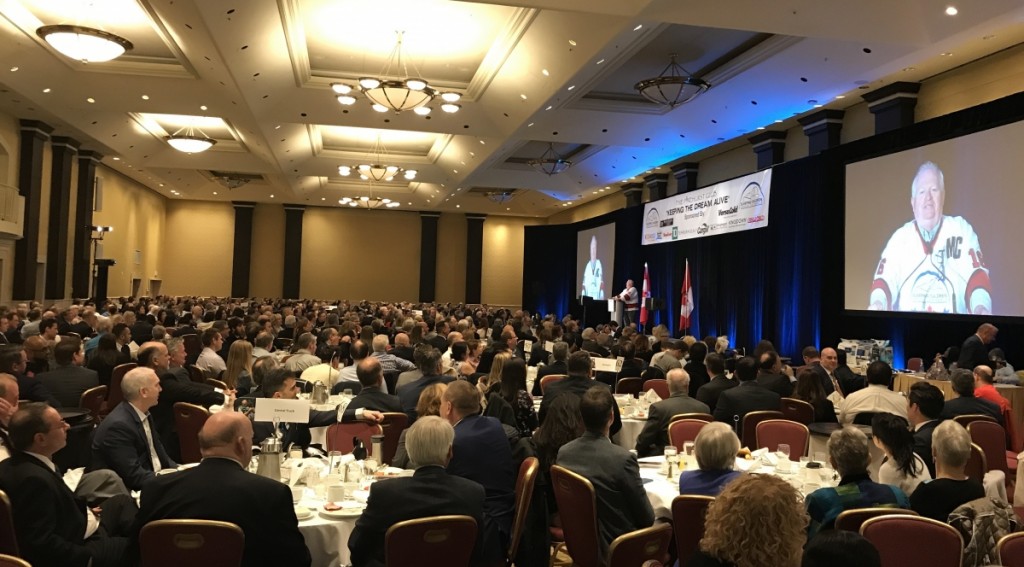 The Pinehurst Club was inaugurated in 2008 by a group of business leaders, who wanted to ensure that future generations of children in developing countries would have access to the comforts of a bedkit provided through the charitable efforts of SCAW. 700 business people met at the Fairmont Royal York for this annual breakfast, which raised a spectacular $150,000 plus $18,680 from the raffle to support the Legacy Fund. It is this Legacy Fund that ensures that 100% of all bedkits donations go directly to the children.
"Whatever we are now can you imagine what we will be in 10 years. That is the exciting part. That is the best part," said keynote speaker Ken Dryden
Our association with SCAW goes back 10-years. I approached Dave Dryden with a proposal of corporate sponsorship. At the time, this was outside the comfort zone of the Board. Nevertheless, we did make an initial foray down this new approach of Corporate Social Responsibility and fundraising. As described in our previous SCAW Charity Spotlight, this never flourished in quite the way envisioned, yet, opened SCAW to attract corporate sponsors.
#SleepDay 2017
On November 3, SCAW will be hosting its second annual Sleep Day, in which you can wear pyjamas to work for a $5 donation. All monies go to the purchase of bedkits for children living in poverty in developing countries. Check out the Sleep Day website here.

I was delighted to have the opportunity to talk with Christine Magee founder of Sleep Country Canada, who were the headline sponsors of #SleepDay.
The success of the Pinehurst Club is a testament to the fact that the charitable sector can have a very symbiotic relationship with the business community. We appreciate many non-profits may be apprehensive of corporate sponsorship, while many businesses are uncertain how to approach it.
"Our Ambassadors from the business community are passionate about providing a child with a good night's sleep, and they devote their time, efforts, and finances to ensure the success of The Pinehurst Club Breakfast."
Thank you, Dave, for inviting me to this Pinehurst Club breakfast. You can be assured we will attend again.
Opencity Inc. thinks giving a spotlight to charities is important and one way we can be socially responsible.