Plastic Bank is a wonderful social business model turning plastic waste into currency. Brilliant in its simplicity. It is sparking a #SocialPlastic movement.
This is an inspiring story where those challenged by poverty are able to help themselves and each other to benefit from the plastic waste we produce.
Make Plastic Waste a Currency
"We make plastic waste a currency to help the world's most disadvantaged people. I've come to realize that the problem with plastic waste, is that people see it as waste. But if we can reveal the value in plastic, we can make it too valuable to throw away. If we can reveal value in people, we can unleash the potential of the world's most disadvantaged and give them a platform to improve their lives. That's my vision. It's a triple bottom line social enterprise. We reveal value in plastic and it will have a domino effect on the world"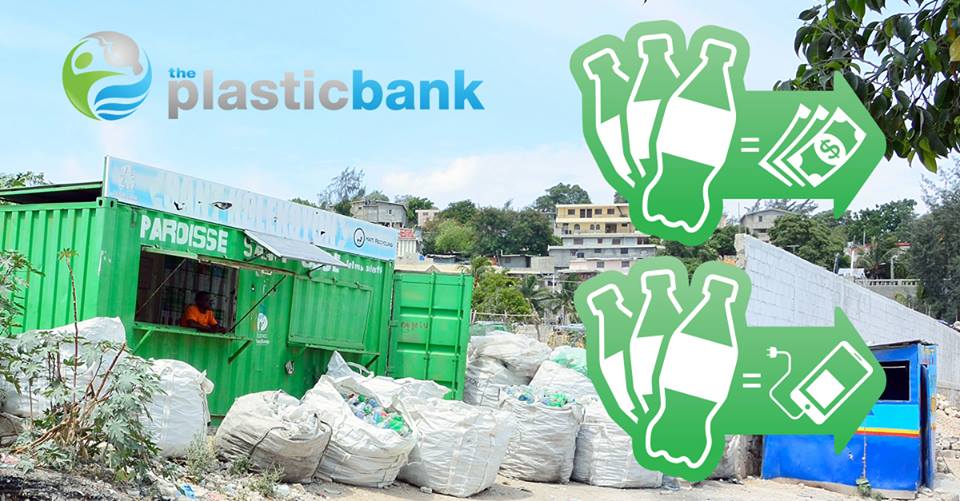 I came across The Plastic Bank from an article posted through LinkedIn by The Results Group entitled CHANGING THE WORLD, ONE PLASTIC BOTTLE AT A TIME. This described the Solar Recycling Markets in Haiti. I also recommend a quick read of the Top 10 2015 Highlights post.
READ PLASTIC BANK'S TOP 10 HIGHLIGHTS IN 2015
Social Plastic movement
Vancouver Plastic Bank Changemaker, Sean Macmillan, described the scale in a Sustainable Brands interview; 
"We found that the big challenge is the scale of the problem. There are a lot of great organizations doing beach clean-ups and educating people on recycling, but it falls short of addressing the trillions of pounds of plastic littering the planet. In order to make a dent in this plastic problem, we needed to build a global movement and a global organization"
Plastic Bank has truly harnessed the power of social media to add to their strong website. You can follow and share their posts on Facebook, Twitter, Pinterest and YouTube. Help show your support using #SocialPlastic
There are many ways that you can support the Social Plastic movement, including encourage brands to use ethically sourced recycled plastic, which will help prove the demand.
ASK BRANDS TO HELP PLASTIC BANK
There is much to be learned from the both the brilliant way Plastic Bank has developed a socially responsible business model to help all constituents and the remarkable way they have cultivated a social movement. Video has played an important part in communicating this message. CEO David Katz describes in the video above;
"a platform where everyone who was in poverty, helps everybody else who is still in poverty"
Nominate future Charity Spotlights
Opencity Inc. think giving a spotlight to charities is important and one way we can be socially responsible.
We have an ask. Tell us which charity is important to you and that you recommend we should feature.
NOMINATE YOUR CHARITY SPOTLIGHT
Inbound Marketing introduction for nonprofits eBook
CLICK HERE TO DOWNLOAD THE EBOOK
Photos courtesy of Plastic Bank